No other activity could be as adventurous and exciting is mountain climbing. It is during hiking that you get an opportunity to feast your eyes on some of the most beautiful and breath-taking natural spectacles and to have a better understanding of your innate powers and capabilities. Climbing each single step is as if gaining victory over your life. Although it is not at all easy to adjust yourself in the natural environment, but what if you can take the comforts of your home along with you? Surprised? Don't be. Read below a list of five amazing mountain shelters that are designed especially for hikers to help them have a comfortable climbing.
HUBA Mountain Shelter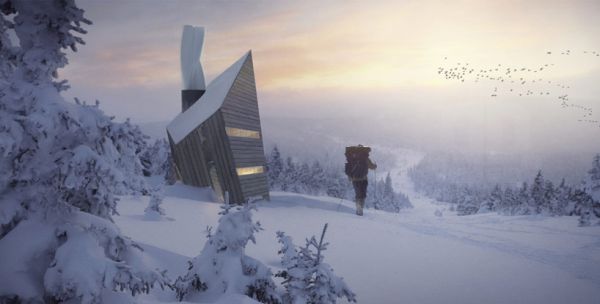 The HUBA mountain shelter is the brainchild of designer Michal Holcer who aims at promoting mountain tourism. Michal himself is a travel freak and the idea struck him during one of his journeys to southern Europe during which he met several difficulties. Michal was reluctant to stay in the various hotels on his way as this would have prohibited him from taking a glimpse of many of the natural landscapes.
The HUBA house is aerodynamic and sophisticated and is created out of wood and wind fallen trees. It has been specifically designed for public use and is loaded with a wind turbine that uses wind energy to power the house. The incredible house consists of two modules namely living and power modules that can be detached and repaired as and when required. The power module has been made out of recycled plastics.
Leaving Ecological Alpine Pod (LEAP)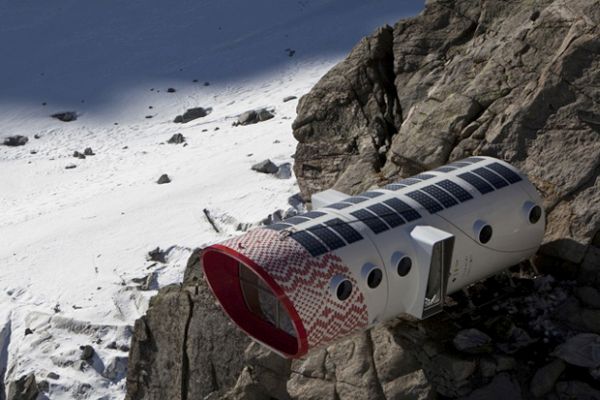 LEAP is a highly advanced and innovative mountain house that has been designed very futuristically. These are tube shaped, sustainable designed houses that have a base shaped like that of a spaceship. The material used to construct the LEAP is similar to that used to make airplanes and sea-faring ships. The tiny solar powered pods are inclusive of essentials such as bunk beds, kitchen itineraries, toilet, living room etc.
Space Shuttle-Like Mountain Shelter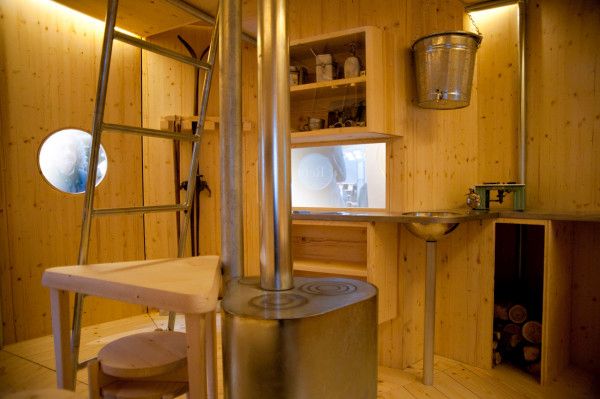 This is yet another futuristic mountain shelter designed inspired by the shape of a space ship and resembles a dodecahedron. The house contains an outer frame made with aluminum and is therefore extremely lightweight and easy to install and uninstall. The base of the house bears adaptable piles that help to keep the construction stable even on an unleveled ground surface. The interior is designed out of pinewood, which keeps the house warm and cozy. The house is designed to easily accommodate eight people at a time.
Eco-Temporary Refuge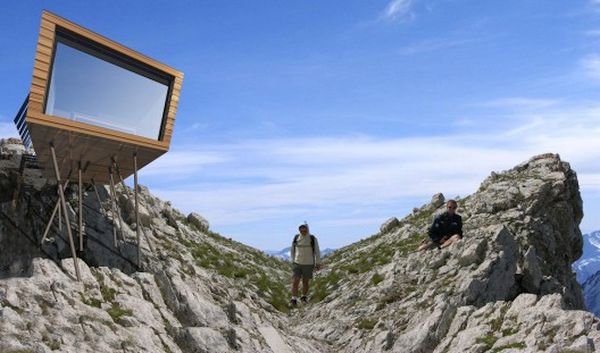 This is a sustainable prefabricated house especially designed for the mountains. Designed by Cimini Architettura, this amazing green home is entirely solar powered and consists of an incredible snow melting system to provide its residents potable fresh water anytime. This self sustainable house can be airlifted to almost any location including snow clad hills and mountains.
Optimal Travelling Independent Space(OTIS)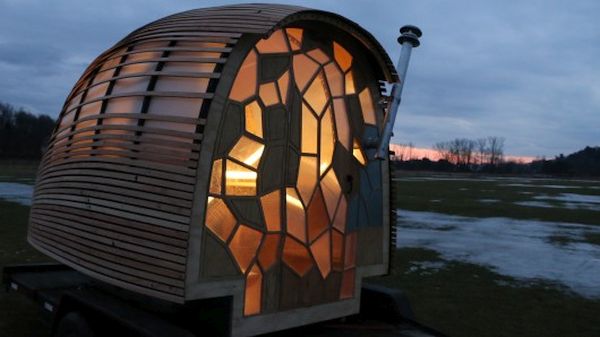 OTIS has been designed by a group of students from Vermont's Green Mountain College and is composed of wood and stained glass. This is a mini, pod shaped shelter that is extremely high end and can be installed at any location including mountains. The house consists of a rainwater collection system and a solar panel to utilize solar energy for various needs and a composting toilet.
Explore the heights and found yourself close to nature with these incredibly designed shelters.