We have seen lots of rugs and a number of stools but nothing of this sort. This one looks like a simple rug lying low innocently. Just pull a string and it jumps up to become a stool in a moment. This is the stylish Gregory Pouf Stool. Designed by Gregory Lacoua, it is upholstered in hardwearing wool. This makes it soft as well as quite durable.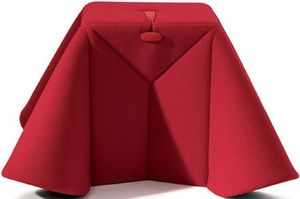 The designer suggests that it's for a child's room. But from the look of it, it neither looks childish nor lacking in seriousness. Therefore, it could very well be a part of any room if the rest of the setting in the room supports it.
So, get ready for a rug-cum-stool, which is quite a rare combination otherwise.