Due to the scarcity of electricity in some places, the designers have developed washingmachines that do not use electricity for their working. Instead, these washing machines utilize a pedal for their functioning. Here are some pedal powered washing machines that clean clothes without increasing your electricity bills and are efficient in their performance. These washing machines powered by pedal are economical and are easy to operate.
Bike Washing Machine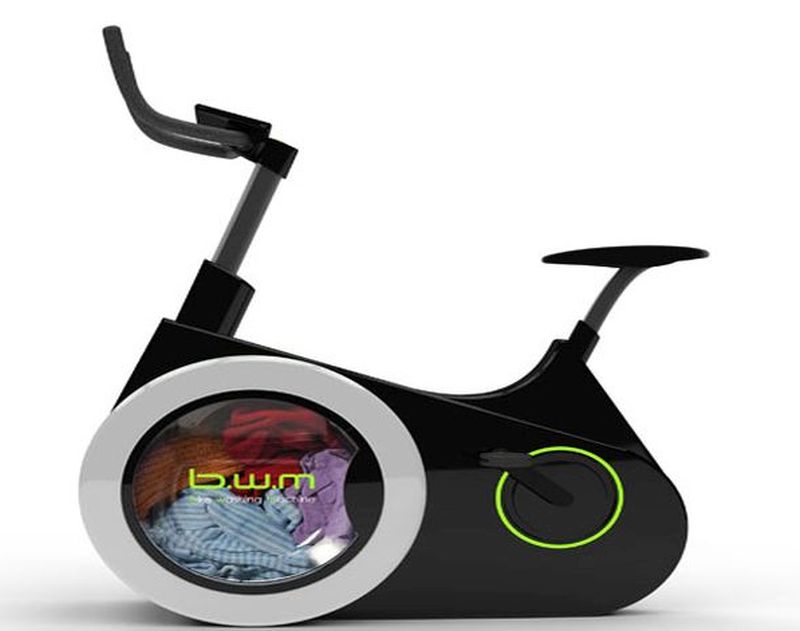 A designer named Li-Huan has introduced the concept of Bike Washing Machine. The design of this washing machine includes a pedal system of a bike. The user has to put the clothes in the washing machine and has to drive the pedals for its working. It is an ideal way to exercise as well as get the laundry done of the user. The effectiveness of the cleaning depends on upon how fast you are cycling. The idea behind this washing machine is very innovative, which combines physical exercising with the task of cleaning clothes.
Yirego Drumi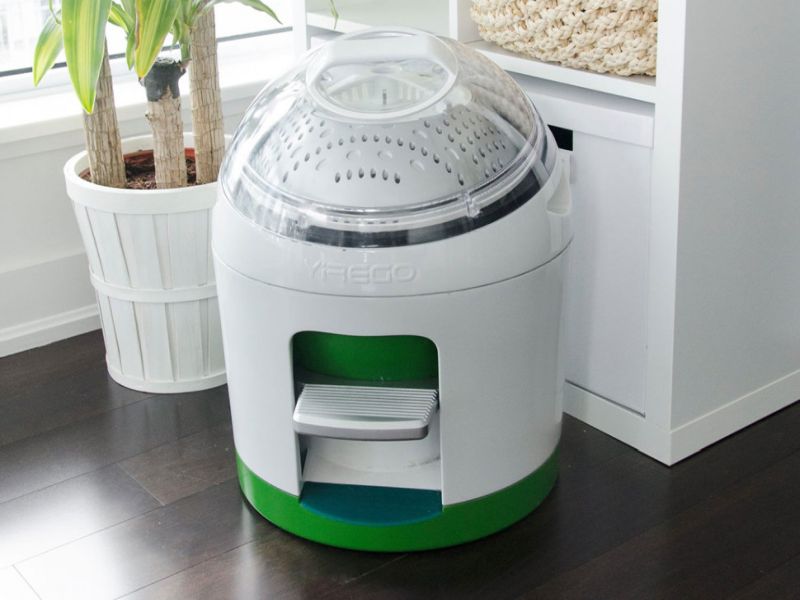 The Yirego Drum is a 22-inch tall electricity-free washing machine, which is capable of washing six to seven clothes at a time. You can put clothes, water and detergent in its small circular interior ball drum for cleaning. There is a small pedal on the bottom of the Yirego Drum, which requires pumping by a single foot for its working. It is a good option for people who use washing machines less or simply want to wash less number of clothes. It is also a handy option during power outages.
GiraDora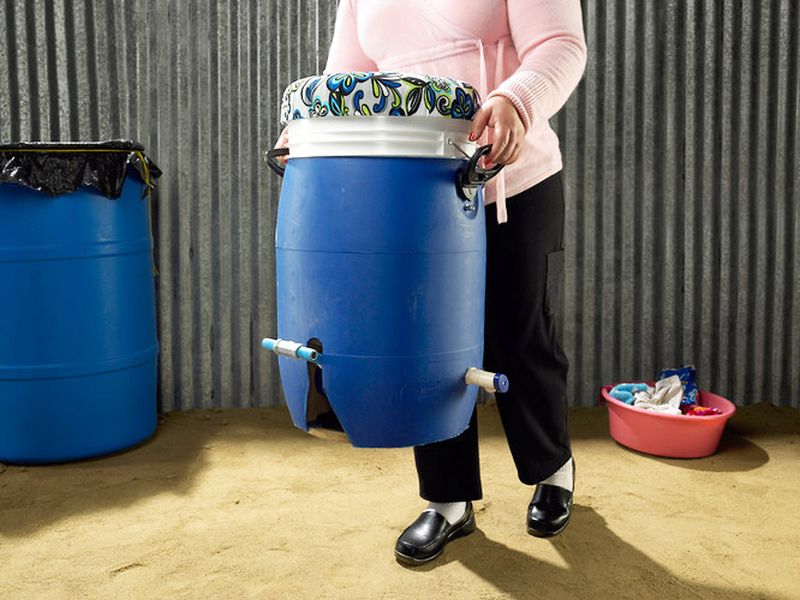 GiraDora is a pedal powered washing machine, created by Alex Cabunoc and Ji A You. The creators designed this washing machine for developing countries that lack electricity or money to buy expensive washing machines. This pedal powered washing machine is a combination of a washer and a spin-dryer. A single pedal foot is present at the bottom of this product to operate it. This economical washing machine has an expected price tag of $40.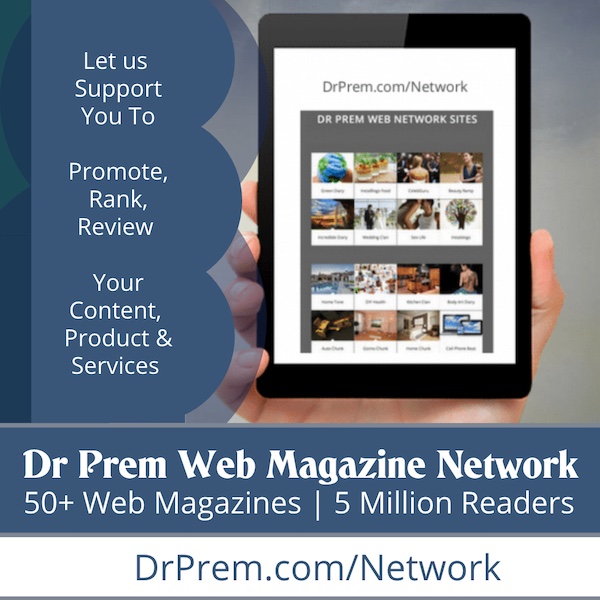 Spincycle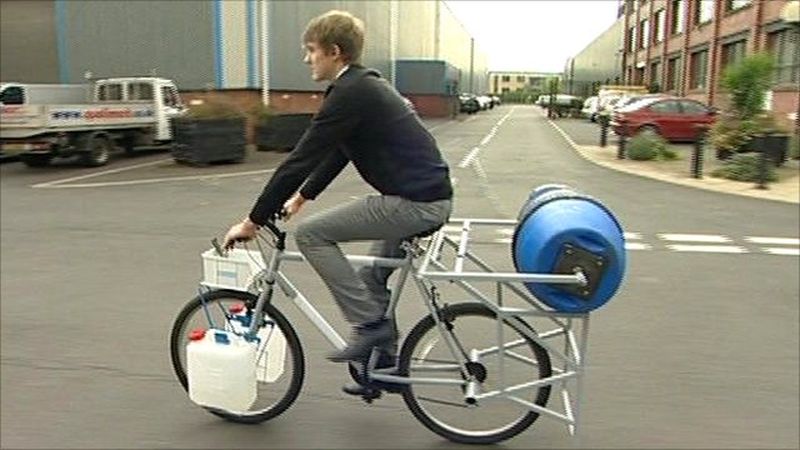 Image Source : AtlanteanProject.Com
The Spin cycle washing machine is an innovative device that can wash, rinse and dry clothes. The pedal powered washing machine attaches itself with a tricycle whose pedals give it power for its operation. It is a good option for those who cannot afford a washing machine or find themselves in places with limited electricity. This washing machine is completely an example of brilliant innovation.
Cyclean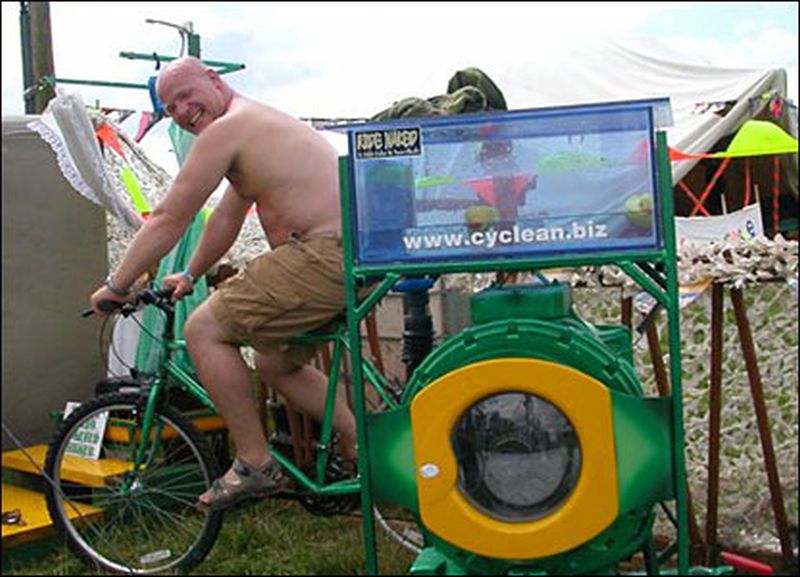 Image Source : Newsimg.Bbc.Co.Uk
Green enthusiast, Alex Gadsen built this prototype pedal-powered washing machine known as Cyclean. The Cyclean is a combination of intelligent design and efficient waste management. This washing machine utilizes a stripped drum and shocks of an old washing machine with a designed frame to place them together. It utilizes a universal joint to connect the washing machine with the bike pedals. Cyclean is a extraordinary concept to reuse an old washing machine as a pedal powered washing machine.
Bicilavadora
Image Source : News.mit.Edu
Bicilavadora is a bicycle washing machine. The credit of this washing machine goes to a group of students from Massachusetts Institute of Technology. It utilizes a light suitcase and plastic molded panels for the construction of its inner drum-outer drum combination. The machine is especially for developing countries where its construction materials are readily available. It has options of a spin mode and a wash mode. To switch its functioning from spin mode to wash mode, the user has to shift the cycle to high gear. 
These innovative pedal-powered washing machines are economical and save electricity. It is a good choice to use these pedal powered machines in places where the scarcity of electricity is a major problem and where people cannot afford conventional washing machines.