The attic with its original slanted ceiling is usually a space with great aesthetic potential. The interiors under the roof can certainly be decorated in a unique way, using all the possibilities offered by the attractive angled walls and ceiling, but on the other hand the attic may turn out to be a challenge in terms of arrangement and might require custom furniture. So how to choose and where to place a desk or a bookcase, when you intend to arrange an office in the attic? What kind of lighting should be used in a room with a slanted ceiling?
The office in the attic and the must-have furniture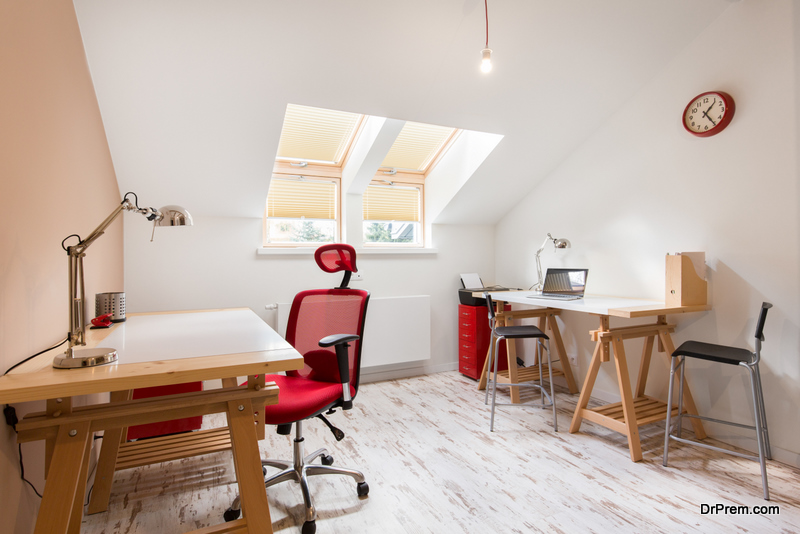 Arranging your home office and furnishing it with the necessary equipment depends on the type of work you are pursuing. The absolute minimum in most cases is a desk and a comfortable chair. The number of accessories (for example a cabinet or a bookcase) and their arrangement also depends on the space you have in your attic ‒ its size and arrangement possibilities.
When choosing a desk, first of all take into account your size ‒ desk height needs to be appropriate for your build, so long hours of work do not cause any discomfort. The width and length of the desk should be adjusted to whether you need a laptop, desktop computer or maybe two monitors ‒ for work with a laptop a desk measuring about 80 cm in width and 120-160 cm in length will be sufficient.
The best position for the furniture would be to place it at the right angle to the window. This will ensure that the sun does not dazzle you while working, but also does not cause a glare on the monitor and interfere with visibility.
An indispensable element at the desk is also a comfy chair. A swivel model with adjustable armrests is usually a good choice, as it not only provides proper lumbar support, but also ensures that long hours of sitting are not burdensome for the body.
Illumination in an attic office
Good lighting in the office is an absolute must. It should be based on natural light coming through the glazing. It does not tire the eyes as much as artificial light and, at the same time, contributes to energy saving. If the arrangement of the attic allows it, both facade and roof windows should be installed in the home office. Both types will ensure optimal interior illumination with plenty of natural light during the day. It is worth remembering that roof windows may be used both for pitched and flat roofs ‒ which is especially important in a situation when there is no possibility to install facade glazing in a given room. Roof windows, apart from providing sunlight, additionally ensure appropriate air circulation. Being able to ventilate the room you are working in is an absolute must for good working conditions.
However, attic windows that illuminate your work space during the day are not everything. Days can be short, especially in autumn and winter, and it gets dark quite early. Therefore, an indispensable element of every office should be several points of light. In addition to the main lighting in the form of a chandelier or lamp, a desk lamp is also important. When choosing artificial lighting for work, it is worth choosing mainly neutral or cold coloured bulbs, which are good for concentration.
Colours in an attic home office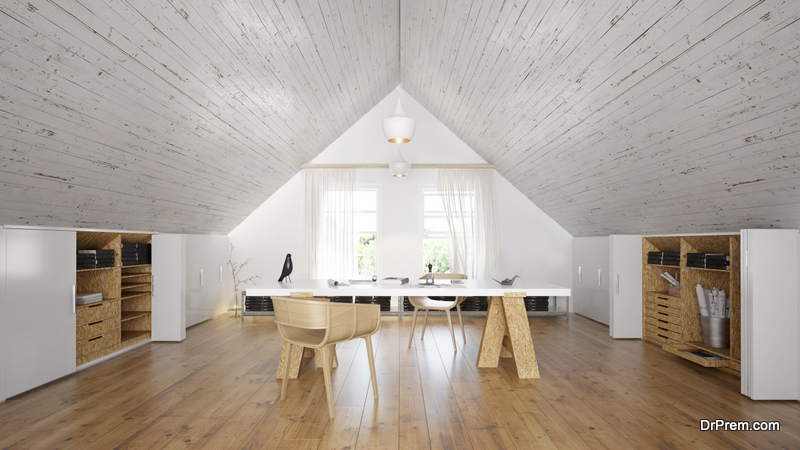 When thinking about wall colours for a home office, we usually choose light shades of grey or beige. Neutral colours allow for a wide range of possible arrangements, they go well with most finishing materials or accessories in brighter colours. Uniform white on the walls of the office in the attic, in turn, can optically enlarge the space under the slants – which is often quite small. Bright colours boost concentration and do not distract from work.
Dark colours, intense reds or greens, may unnecessarily darken the interior, which in case of a workplace should be well lit. Soft pastels or warm yellows, on the other hand, will improve concentration and make the time spent in the home office more pleasant.
Article Submitted By Community Writer