Certopus is a comprehensive certificate management solution. It provides you the ability to design, generate in bulk, send out mass emails, verify,white label, and monitor your certificates effortlessly.
This user-friendly interface enables you to produce high-quality certificates and simplify the distribution of digital credentials, all while safeguarding your reputation and thwarting fraudulent activity.
Certopus is built with the aim to streamline and digitize certificate issuance as well as eliminate certificate forgery, keeping in mind cost-effectiveness as a factor.
The platform was designed to be accessible to businesses of all sizes while ensuring authenticity and transparency in the certificate verification process.
Sign up for free to get free access to Certopus and 50 free certificate credits that you can use to try out the services.
Create your own certificates by utilizing the available templates. Choose from a vast selection of professionally crafted certificates for your design.
Generate professional-looking pdfs in bulk and quickly issuethe personalized certificates to the recipients with only a few clicks.
Gain insights into how your certification campaign is performing and use this data to plan and achieve the best outcomes for your audience in the future.
Features and Benefits of Using Certopus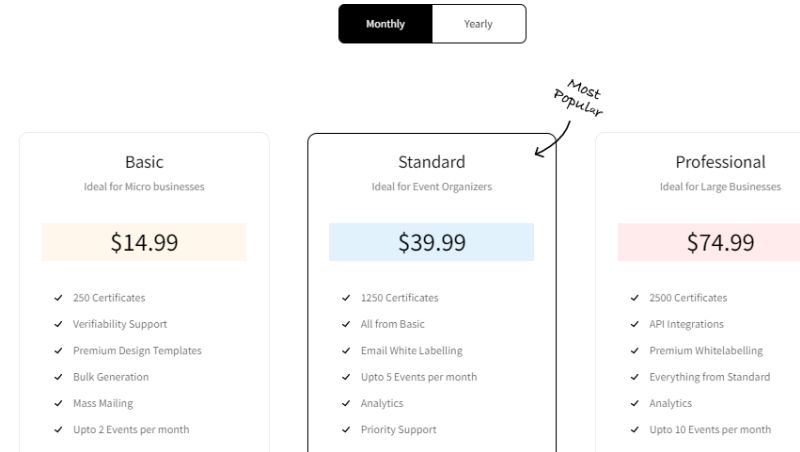 Image Source : certopus.com
Certopus offers various features and benefits that make it a valuable platform for digital certificates. Firstly, it is cost-effective compared to physical certificates, allowing you to make the most of your budget. In addition, it is also committed to being eco-friendly by reducing paper waste.
Certopus also provides tamper-resistant verification processes to prevent counterfeiting and maintain the integrity of your certificates. With the ability to generate and deliver thousands of certificates in a short time, it saves you time and increases the reach of your Certificate Authority.
Furthermore, it ensures better availability of your certificate records with a guaranteed uptime of 99.9%, allowing recipients to access them whenever and wherever they need. With post-event analytics, you can gain insights that help you plan your future events better.
Integrations Provided by Certopus
Certopus simplifies integration with your existing learning management systems and applications using integration platforms, making it easy to continue using them without disruption. Whether it is the popular LMS or 3rd-party applications, they are well supported, therefore you can get started quickly with Certopus.
Who Can Benefit From Certopus?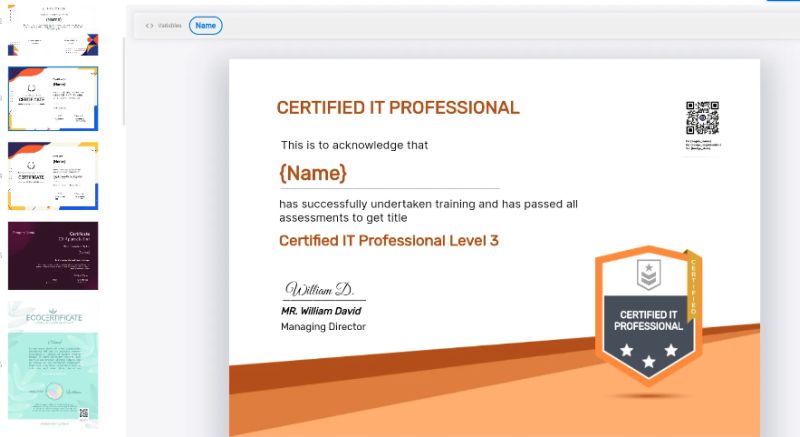 Image Source : certopus.com
Certopus is designed for multiple industries, including:
Educational institutions
Course creators
Training providers
Seminar, webinar, and conference organizers
NGOs and communities
Associations
The compliance industry
Event organizers
HR managers
Growth hackers
Certopus offers solutions for managing digital certificates that cater to the needs of these diverse industries.
3 Reasons to Choose Certopus
Certopus utilizes industry-standard protocols such as IPFS and HMAC-SHA256 hashing algorithms to make sure your certificates aretamper-proof.
This platform enables youwith the ability to create professional-looking, vectorized certificates in PDF format. This ensures your certificates are of the highest quality.
Generate certificates in bulk to save time and money, while delivering them quickly to enhance your business's productivity.
Conclusion
To sum up, Certopus is a cost-effective, simple-to-utilize, and effective way to handle all your certification processes as well as monitor them. With its numerous advantages and features, it is a great choice for various businesses and organizations. So, if you are seeking a reliable way to manage your digital credentials, Certopus may be the ideal option for you.