The year 2008 handed out some unique souvenirs while coming to a close. If you are a design freak and hunt for variety, you would be more than content with the list of designs we have for you. Enjoy a scroll through these remarkable architectural, autos, industrial, domestic, and interactive designs!

1. Architectural Designs
Hotel Full Moon radical skyscraper concept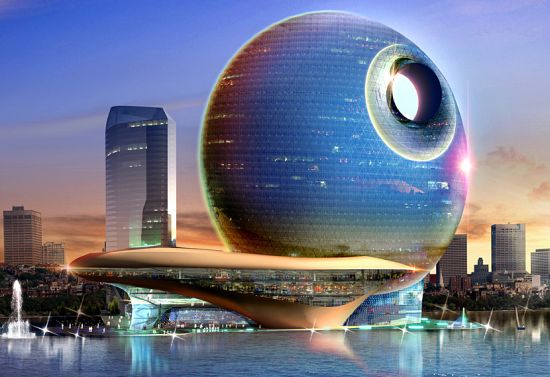 'Hotel Full Moon' is a concept skyscraper by a Korean firm, Heerim Architects, and it is so radically different from the traditional structures that once it is built it will transform the view of the Azerbaijani capital Baku. The skyscraper itself will rise to 158.68 meters and 35 stories will be devoted to a luxury hotel with 382 rooms. The hotel will be linked via a zoomorphically shaped podium to two residential blocks, curiously named Palace of Wind 1 and 2.
Dynamic Architecture's wind-powered rotating skyscraper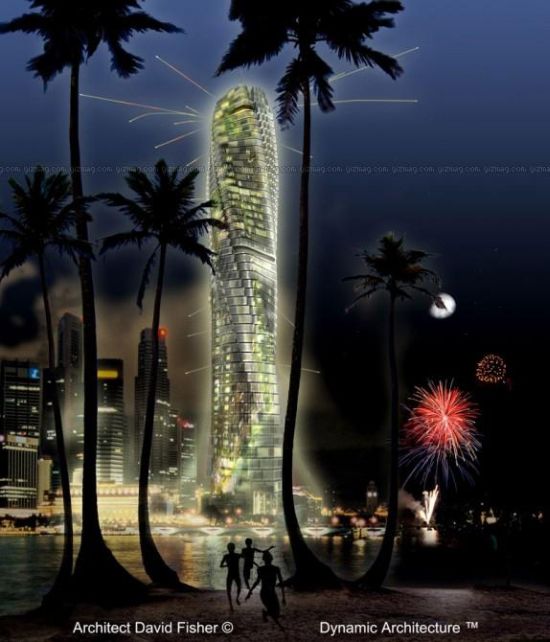 Dr. David Fisher's design of the Dynamic Architecture wind-powered rotating skyscraper is quite simply the most exciting green building that you will find around the planet in some time to come. The rotating marvel that this building is, it produces 10 times more energy than it uses up. Forget about zero-energy buildings, this one gives tons of energy back to us. Each floor of Dynamic Architecture's wind-powered rotating skyscraper is a single apartment with the ability to rotate independently, giving residents the ability to choose a new view at the touch of a button – quite a party trick. Wind turbines between each floor will generate a vast surplus of electricity capable of powering the whole surrounding neighborhood. Even to visualize such an existing concept is damn difficult and that is a direct tribute to the creative genius of David Fisher.
Crystal Island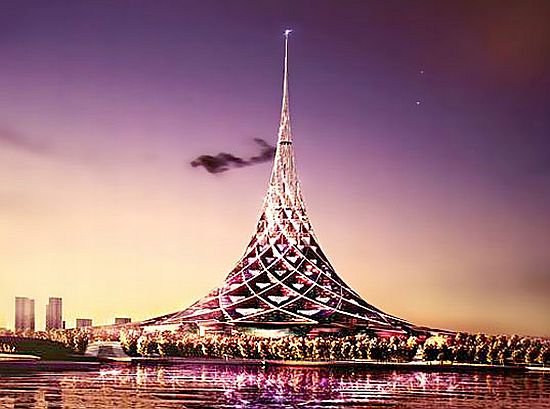 The mesmerizing US $4 billion 'city inside a building' is likely to be built within the next 5 years. Enclosed within a massive mega structure, covering a total floor area of 2.5million square meters, the project's scale is unparalleled. Conceived as a self-contained city within a city, it features a rich mix of museums, theaters and cinemas, to guarantee that it is a major new destination for the whole of Moscow. The Crystal Island is 1,500ft high, can house up to 30,000 residents, and offers panoramic views over Moscow from a viewing platform at its apex.
Cybertecture Egg Office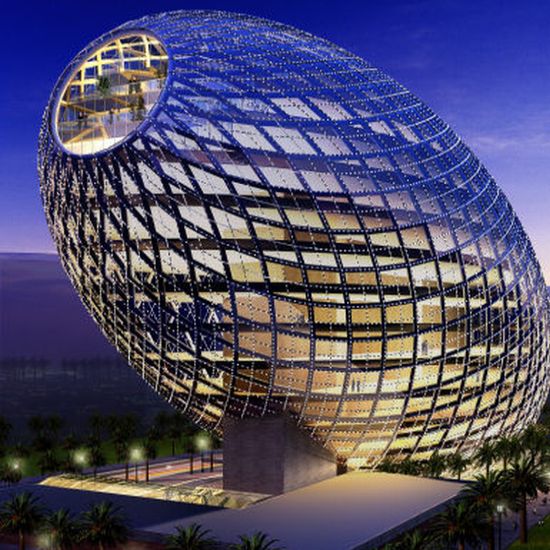 A company called Cybertecture International is all set to bejewel the business capital of the nation, Mumbai, with a stunning high tech luxury office design that will curiously enough resemble the shape of an egg. Based on futuristic interactive building designs, the Cybertecture Egg will be one of the most high-tech offices in the world with PV panels, a wind turbine and a sky garden that will generate electricity via thermolysis as well as an eco-cool water filtration system that will recycle gray water for use in the building. The super-futuristic office will also have some pretty smashing on-site health check systems like weigh-ins and blood pressure monitors installed in the washrooms.
The Bird's Nest National Stadium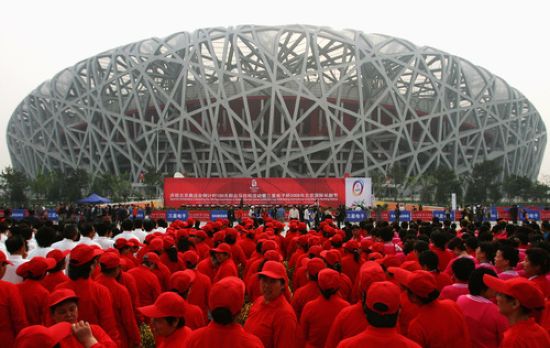 The Bird's Nest National Stadium positively added to the splendor of the 2008 Olympics. It's a flesh and blood testimony of present-day architecture, thanks to some sterling efforts, Pritzker Prize-winning architects Herzog & de Meuron put in. Chinese art & culture see fruition in its formation as it's spread over 258,000 square meters (2,777,112 square feet) of space.
2. Auto Designs
Baja 1000 Buggy Green and mean desert racer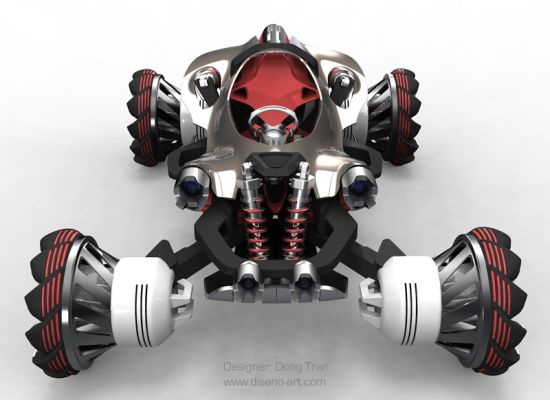 This desert racer will feature brushles in wheel motors and Francis turbines inspired wheels; the single rider race buggy will utilize solar cells, together with a hydrogen fuel cell power-source, to charge the electric drivetrain.
Audi Calamaro concept Flying car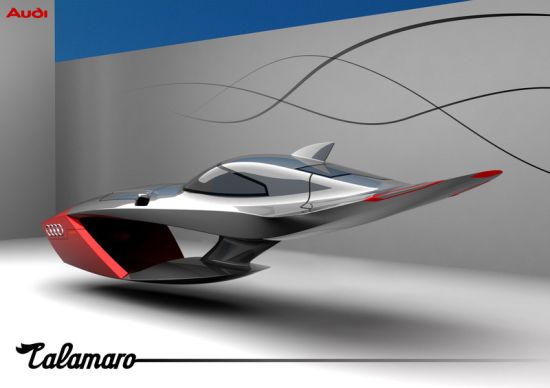 This futuristic Audi Calamaro concept looks like a cross between a boat, a ski and perhaps even a stealth aircraft. According to the designer, the shape is inspired by "the bone of the cuttlefish". Being a design of the future, we guess, the Calamaro will be powered by clean fuel options.
BMW ZX 6 Concept for 2015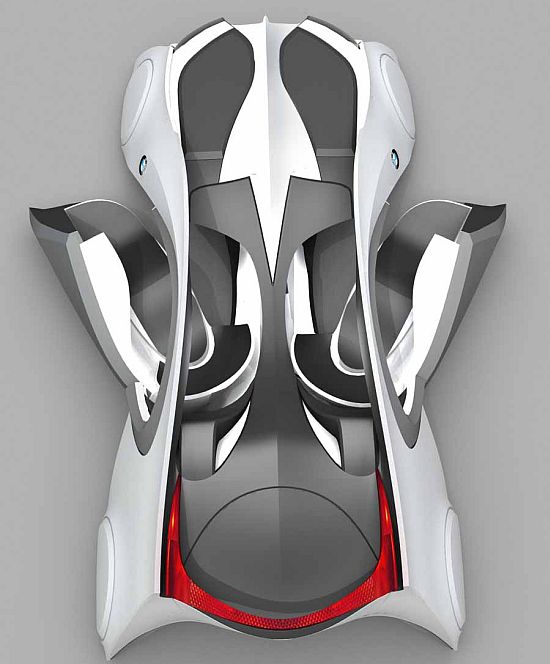 Created by Transportation Design students at Turin-based IED (istituto Europeo di Design), in partnership with BMW, the BMW ZX-6 Concept interprets the needs and desires of adult drivers in the year 2015. Using the company's trademark essence, in view of its future perspectives, the concept relies on an evolutionary style language that demands future vehicles to be versatile.
T6 concept car from Volkswagen gives wheels to the office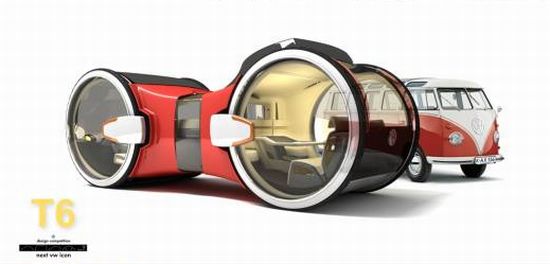 Designed by Alexander Zhukovsky, the car features two cylindrical coupes that are hinged together in the center. Since the wheels are fringed to the border of the car, there is enough room in the saloon to accommodate the passengers as well as equipments like monitors etc. to make presentations or conduct a meeting effectively.
Ozone hydrogen powered concept car runs on two big wheels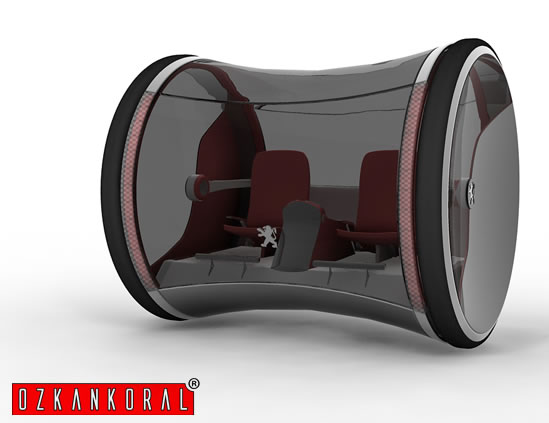 In ozone car, fuel cells turn hydrogen into electricity; they completely do away with the use of fossil fuels in powering cars and are unbelievably efficient as well as clean and safe. The whole structure is encased between two giant wheels that are controlled by two separate electric motor, powered by fuel cells.
3. Industrial Designs
Alien Mouse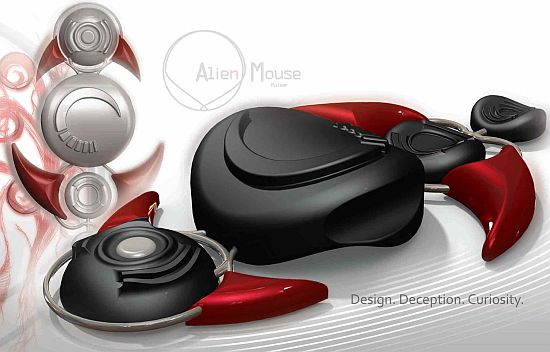 Mizanur Rehman from the UK took a more cynical view of this seemingly insignificant device (from stress point of view) and came up with a vibrant concept mouse that is described as 'Alien Mouse.' Staying true to the name, the Alien Mouse is designed to mold to the user's hand and thereby prevent RSI and reduce stress. But it does not stop there. It vibrates and relaxes the muscles as one continues the heavy duty clicking. The unconventional design is completely supported by research into ergonomics.
Timex TX54 disposable nail watch design concept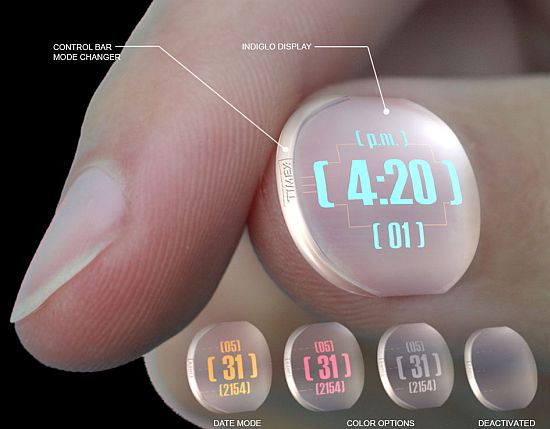 TX54 concept presents a disposable timepiece that can be worn on the user's thumbnail making it an invaluable fashion accessory as well. Thanks to a translucent body, the design blends seamlessly with the nail while a selection of text color options and a glow feature activating on command, make it supremely functional as well. A perfect blend of appearance, user interface, and technology, the nail watch passes most standards of modern design with flying colors, thanks to its functional and minimalist appeal.
Corner V1 Computer Desk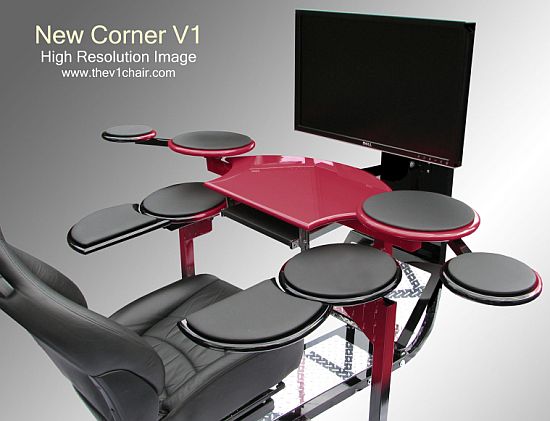 The new Corner V1 Computer Desk from the house of V1 Chai is a revolutionary new product that is designed to greatly enhance anyone's music, gaming, home theater, and working experience. The V1 computer desk can be used as a computer gaming chair, flight simulator, racing simulator, cad workstation, video editing workstation, sound editing workstation, personal movie theater, surround sound music environment and more. It comes with a 2.1 speaker support, designed for two speakers and a subwoofer. There is the flat screen monitor support that is 3 position height-adjustable and touts a premium quality articulating wall mount bracket.
Lunar design's Blu Jacket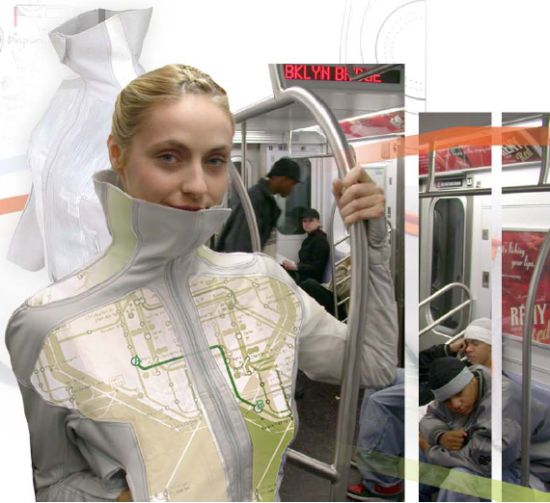 Lunar design's Blu Jacket is a futuristic concept that could make walking billboards a very distinct possibility in the near future. And to do that, Lunar Design has sandwiched electronics, notably futuristic organic fabrics, into the BLU Jacket concept. These futuristic fabrics, which can contain semiconductors will enable the BLU jacket display your moods through signs and colors. This BLU Jacket also has a GPS module built into it.
Apple iThink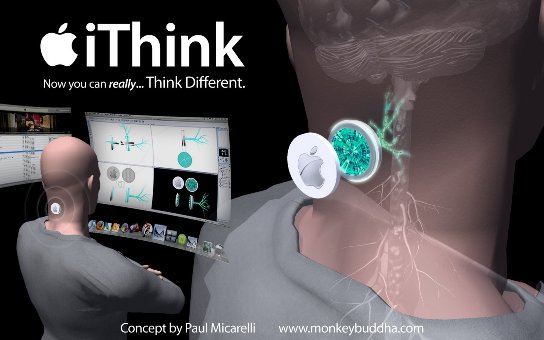 iThink concept is perhaps a sneak peek at how digital technology will eventually be a part of our consciousness and how that would lead to a state of super-consciousness being attained. A working design of the iThink will feature a Symbiosis™ Neural Interface that merges your brain with a computer; Intel Fusion™ Quantum Processing to ascribe machine-like computing speeds to a human; and Perceptual Immersion that gathers sensory input on data such as images, sound etc. for processing. Your brain would also function like a transmitter/receiver by receiving or transmitting signals (with regulations, of course!) over the iThink network. This would be handled by Intra-neural Communication.
4. Domestic Designs
Water Ball Ripples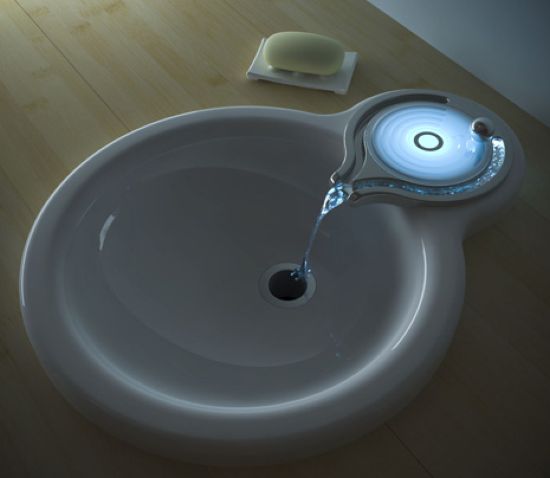 Red generally indicates danger or risk while blue stands for refuge. What if the same concept finds an expression in your faucet designs? Rhyming in league with this perception, Smith Newnam and Touch 360 Studio have come up with all new Ripple faucets to ensure you never burn your hands. Thanks to a highly sophisticated flash heating system that assures an optimal temperature your hands might be in contact with.
But-On Microwave Owen design concept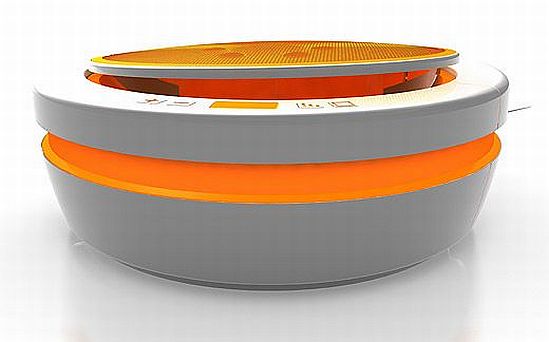 This unique revolving microwave conceptualized by Czech designer Martin Zampach is a delight to watch. The But-On reduces the traditional concept of a microwave to its bare minimum where the sole control button only monitors the duration and intensity of the heating process. No more additional buttons to confuse you! With a fully removable and dishwasher-safe inner container, cleaning becomes hassle-free and you also need not worry about getting burned from the heated inner chamber as the unit opens up the food container in a unique vertical direction!
Xeros – The 'one-cup water' washing machine concept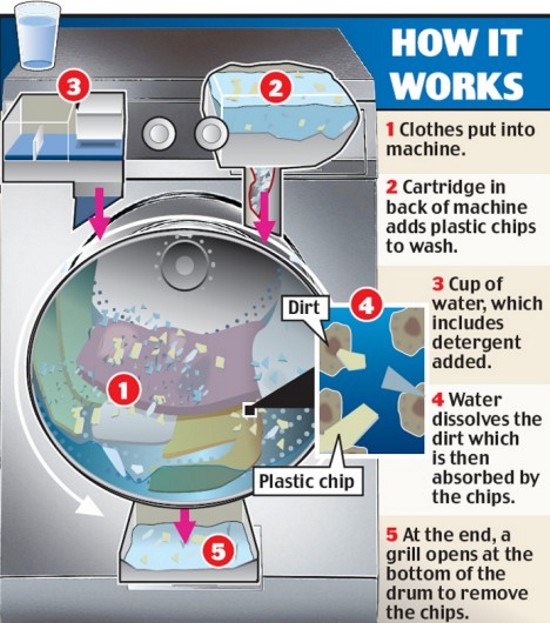 Professor Stephen Burkinshaw has invented a washing machine, dubbed Xeros that will wash a full load of your clothes using just a single cup of water. This magical washing machine uses plastic chips to do the cleaning job. These plastic chips are 0.5 centimeter in size and around 44lb (20kilos) of these go into each load. When the washing cycle commences, the water gets heated up and dissolves the dirt, which is then absorbed by the plastic chips. The plastic chips are re-usable and can be used up to 100 times.
Triplo Toaster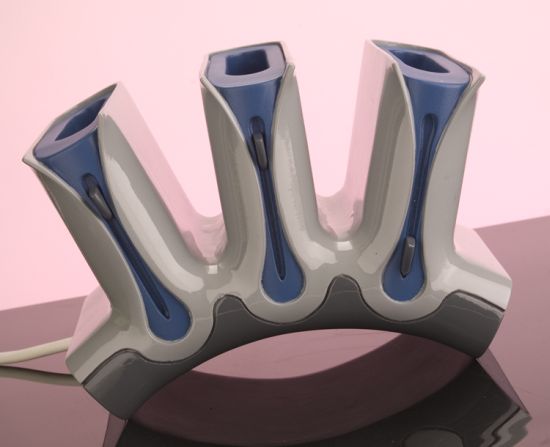 Featuring an elegant design with refined technology, Craig Strangward's Triplo Toaster is a similar kitchen appliance that will change the way you prepare your morning toasts. Boasting of an external finish of glossy, durable and organic plastic, the toaster will accommodate refined heating and mechanical elements. Moreover, the toaster splits into three separate modules that will possibly allow baking and differently roasted toasts simultaneously.
'Hability': Wheel-chair accessible kitchen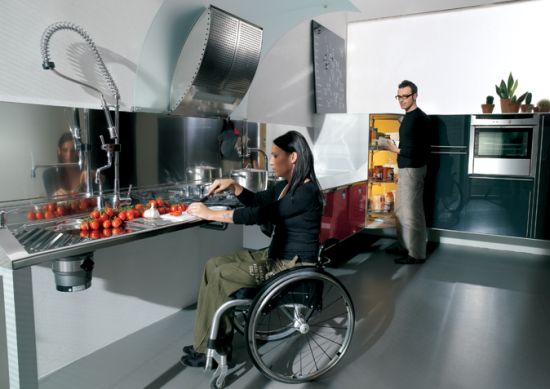 The design firm Valcucine in collaboration with architect Marco Miscoscia created Hability – an ergonomically-innovative kitchen – utilizing Easy Food stainless steel top made from a single mold that reduces work during food preparation as food is hopped, cooked and drained from the same workstation without having to hassle with pots and pans. A self-cleaning system makes the water flow away from the user and directly into the service tank getting rid of ugly messes with the option of having the top fitted with dish draining racks and even transportable sinks.
5. Interactive Designs – LED Structures :
Giant Solar-Powered LED Wall in China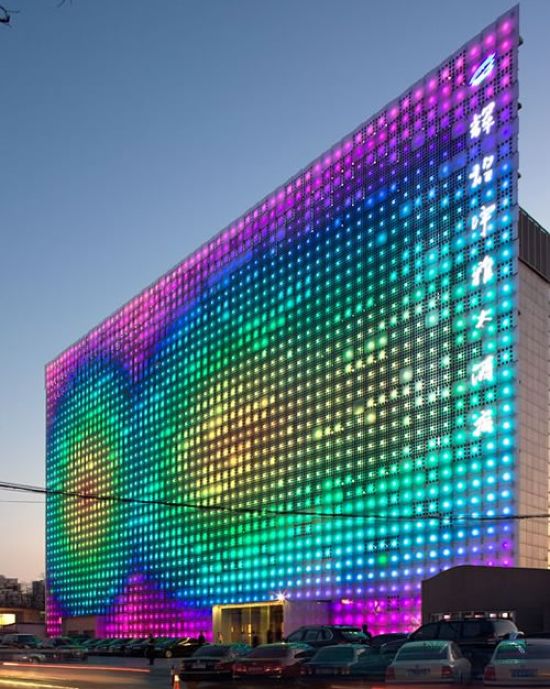 This Greenpix Zero Energy Media Wall at Xicui entertainment complex in Beijing, close to the site of the 2008 Olympic Games in China, is a solar power enabled LED Wall. Simon Giostra & Partners and Arup designed this first ever photovoltaic implanted 20,000 sq. feet large screen. Unquestioningly, this is the most elemental instance of sustainable technology enveloping a building in entirety.
Barco lights Rascal Flatts


You might have come across the set of Rascal-Flatts nationwide country music tour on screen or in person. Have you ever wondered what's so peculiar about that set? It's fully crafted in Barco OLITE and DLITE LED tiles. Having two distinct components – the Hero wall and the Halo structure – the former makes use of 50 Barco OLITE 510 tiles in a 5 x 10 portrait array, 15′ wide by 22′ tall, while the latter employs a checkerboard of LED tiles.

Water Cube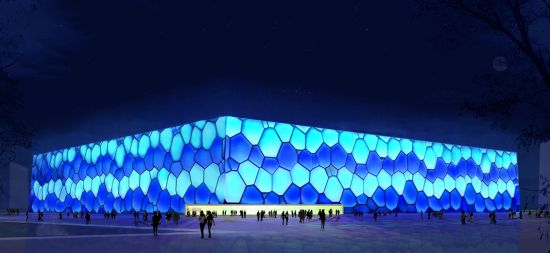 What lent a special elegance to the 2008 Summer Olympics' aquatic events at the Aquatics Center in new Beijing, China? Have any clue? Cree, Inc. undeniably made it a great event through some serious involvement, thanks to their XLamp(r) LEDs. These amazing color changing LED lights brought those bubble shaped see-through walls to life. The structure had around 440,000 fitted-in Cree XLamp LEDs.
Barcelona's Agbar Tower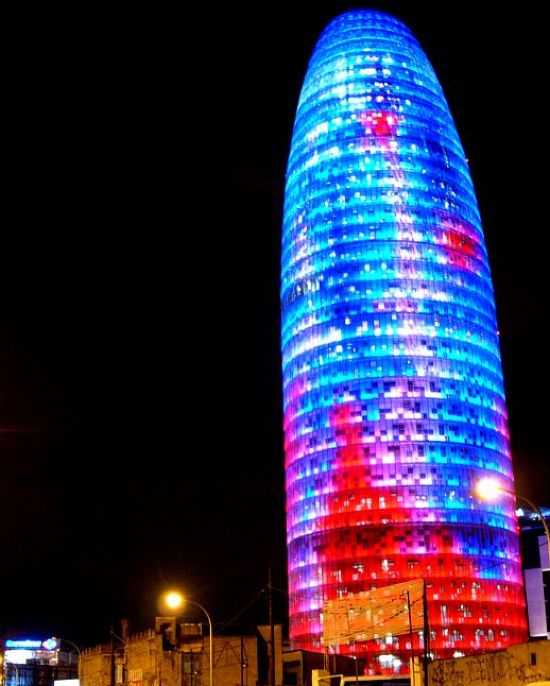 Barcelona is famous for speckled architectural legacies but Agbar Tower clearly is standoffish owing to the LED illumination panels it's studded with. Jean Novel creates a miracle with 4,500 LED devices in wrapping the entire structure up and projecting a single image over the entire construction.
The Crown Fountain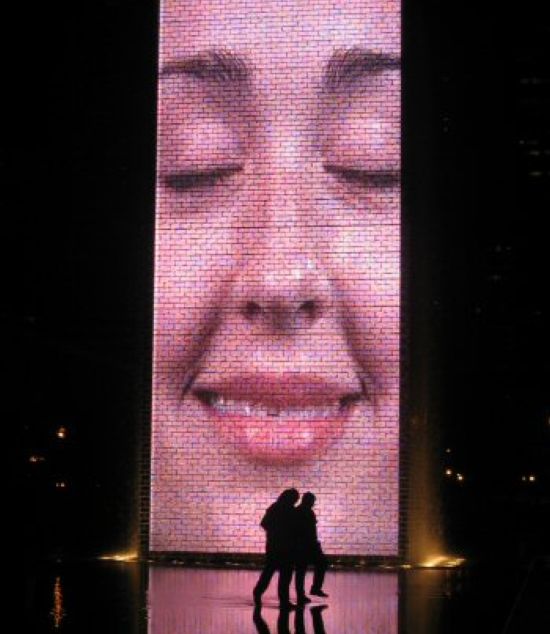 This fountain, constituting the core of Chicago's Millennium Park, is undoubtedly a remarkable instance of contemporary LED architecture. The color-changing LED lighting fixtures guarantee the towers a vivacity of their own. What separates it from other LED edifices are the expressive faces displayed at a large screen spurting water at beholders.