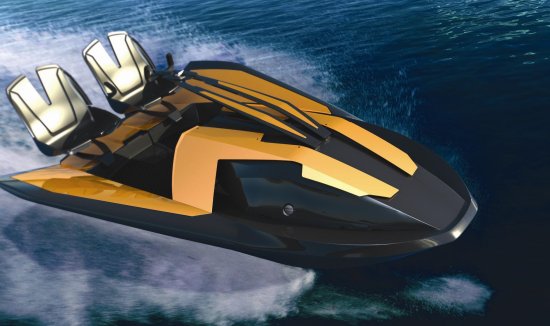 It's a thrilling experiences to skim across the water at a great speed. The thrilling experience attains a more intimate fervor when great speed gets combined with a refined shared experience. A personal watercraft has made its presence felt, which is all geared up to make combo of intimacy and terrific speed a reality.

The Flux personal watercraft makes an excellent use of aerodynamic lift to not only multiply the performance but also improve the efficiency. There is no point in having a watercraft that moves across the sea at a snail's pace. Riding the waves should provide great fun, and if that's not the case, boredom and disappointment shall creep into the relationship. The aerodynamic lift is mainly associated with the "wing of a fixed-wing aircraft." Things like propellers, kites, helicopter rotors and wind turbines, to name a few, produce this lift. In fact, the streamlined objects have more capacity to give birth to aerodynamic lift.
The same principle when applied in personal watercraft leads to greater efficiency. The introduction of wings makes the weight get transferred to the wings from the water's surface, leading to increased efficiency. It's assumed that a 110 horsepower engine will help it attain a top speed exceeding 68mph. Another sensational feature relates with its side by side seating arrangement that ensures a more shared user experience.
The desire to make use of ground effect in creation of craft lead to invention of personal watercraft. The invention takes note of the needs of general public. The invention is also inspired by offshore racing powerboats. The styling is compact, being the result of well-integrated elements. The hull is developed with the help of scale radio control models working in tandem with on-board GPS data recorder.
Check out the PWC in action in the video below: