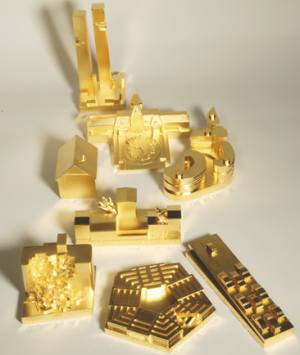 On the occasion of Design Miami 2007 this month, US-based designers Constantin Boym and Laurene Leon Boym, renowned for their creation of the Buildings of Disaster series, displayed a partial gold-plated version of the same series. Buildings of Disaster are considered to depict architectural brilliance across the world. They portray well-known buildings in miniature forms.
The 24K Gold Anniversary Edition, which comprises of eight famous international buildings created with laser 24K gold plating on bonded metal is to celebrate the 10th anniversary of their Buildings of Disaster series. The eight architectural models include the Neverland Ranch, the World Trade Center (WTC 9/11), OJ Car Chase, Pentagon 9/11, Watergate, Oklahoma City Federal Building, Unabomber, and the Waco in Texas.

Innumerable people every year pay their tribute to the Gettysburg battlefield or the site where Diana, Princess of Wales died in a road mishap. The magnificent looking architectural replicas vividly represent some place associated with any horror-stricken human tragedy, incidents of aggression and violence. This series was commenced in 1997 and has been successful in retaining some of the memorable places/building structures with some tragic history as 'souvenirs' or symbols of disastrous past to be cherished forever.
Source: Dezeen