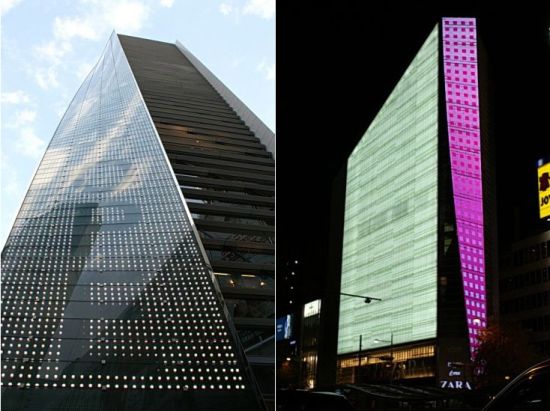 The city of Osaka in Japan houses one of the most beautiful examples of modern architecture, La Porte. The design and structure of this building are amazingly beautiful and it never ceases to draw forth an admiring remark from the passers-by, no matter how many times they might have seen the building. La Porte is located at the entrance of one of the most famous upmarket districts in Osaka, the Shinsaibashi shopping area. Like the Ginza in Tokyo, this shopping complex has super-brand boutiques and high-end department stores. The designing of La Porte makes use of fluorescent lights, so that the building seems to have an emerald green shimmering effect at nights. The structure of this truly innovative building resembles that of a lovely glittering lady at night.

The west wall of La Porte has a large, half-spiral LED display, which also happens to be one of the highest one in Japan. This LED screen on the wall of La Porte, designed by the Komaden Corporation, sports a three-dimensional structure, a first in the world of standard LED screens. The Kapas Led-Cluster that has been used in the creation of this screen that lends it durability, flexibility, and lightness. The LED screen on La Porte takes advantage of its vertically long structure while expressing every season in an urban environment. The screen also has beautiful messages and elaborate images for the passers-by to behold and appreciate.
Constructed by the Taisei Corporation and designed by Plantec Architects Inc., La Porte is truly a modern wonder in terms of it's design, structure, beauty and sheer innovativeness that has gone behind its construction. There are a few really beautiful pieces of architecture in the world that can really be called brilliant, and La Porte would surely rank very high in such a list of buildings of architectural genius.
source:mediaarchitecture