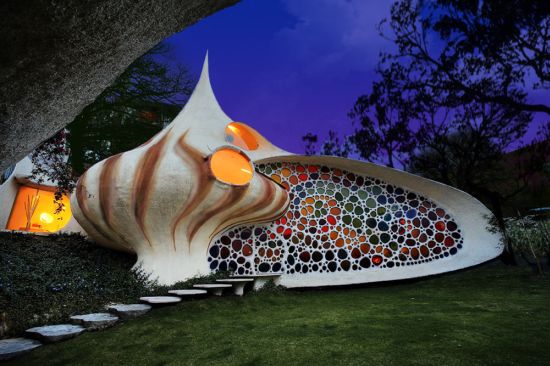 Wow! It's like Alice in wonderland. It must be interesting to live in a house like this. And if you are bugged up living in a conventional home and want to change to one integrated to nature, the Nautilus house would be the best for you. The Nautilus house that looks like a snail shell is built now and a Mexico City couple is already living in it with their two kids.
Shell-shaped Nautilus house is lovely inside and out. It's more of a sculpture than a domicile. Senosiain Arquitectos' Nautilus was built with a 2″ ferrocement construction, a technique involving a frame of steel-reinforced chicken wire with a special two-inch-thick composite of concrete spread over it, resulting in a structure that is earthquake-proof and maintenance-free.

The house is enclosed on three sides by the busy Mexico City and the adjoining West side provides a magnificent view of the mountains. The house is loaded with spiral stairs, smooth surfaces and natural plantings to make residents feel like they're living inside a snail.