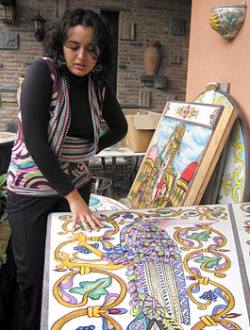 Mt.Etna in Italy is a volcanic mass of rock. In Italy, nothing from the volcano is wasted. Even the lava that comes out is used for decorations and in daily life. At least this is what Sicilian artisans have tried. The folks who dwell around the volcano revere the volcano more than they fear it.
Pottery is what the lava is mostly used for. The lava that is scraped off the slopes of Belpasso is mostly used by artists. The Fine Arts Academy in Florence is where it all started for Lava designer Allegra.
Using the Belpasso lava, Italian artists can decorate by slicing the lava in various shapes. Majolica decorations are then applied to the lava. Creating enough flat surface using this kind of terracotta is the name of the game.
Various workshops teach their students on how to go about decorating things with this lava. Some shops try to apply glass on lava and see what they can come up with. This is what Giuseppe Sgarlata has been working on in a workshop based out of Ragusa (which is an hour and a half drive from Mt. Etna). Several shops even make jewelry out of lava carvings. I believe that Italian lava decorations specially the ones from Sicily are the best in the world.

Source and Image Credit: International Herald Tribune