The SSL protocol is crucial for creating a secure online environment by establishing an encrypted connection. This is especially important for websites that aim to provide their customers with a sense of safety while browsing. This plugin comes in both free and paid versions, which differ with just some additional features.
By installing an SSL, you can assure potential customers that your website is trustworthy, as evidenced by green padlocks and branded URL bars. WP Force SSL is an all-in-one solution that provides immediate results and a variety of features that can save you time, money, and potential customers.
With this plugin, you won't have to worry about managing multiple plugins to achieve the same results. Furthermore, it seamlessly integrates with all plugins and themes, making it a reliable and efficient option for SSL configuration.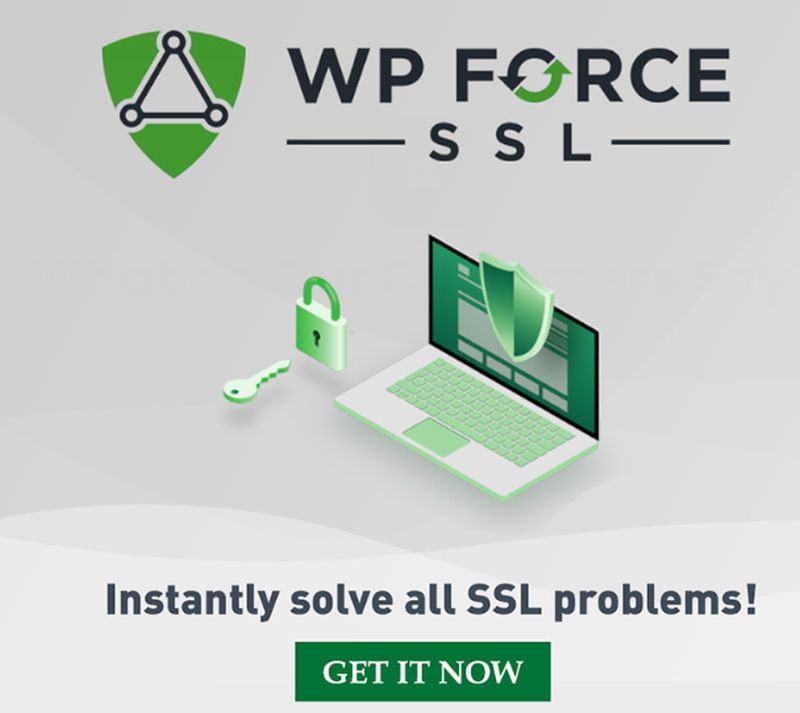 Image Source : wpforcessl.com
Installation of SSL Certificate
The plugin facilitates an easy, effortless installation of an SSL certificate through Let's Encrypt for free. All the necessary instructions for completing the process in a timely manner are provided to ensure a smooth installation experience.
This plugin provides all the essential data about your SSL certificate, including the confirmation of validity, the site for which it was issued, the issuer, and the validity period.
SSL Monitor
Ensuring the correct setup of your SSL certificate is not the only concern. What happens if you forget to renew it? This is where the real-time SSL monitor steps in, providing regular oversight to detect over 50 potential errors each time when it monitors your website.
Content Scanner
It's impractical to manually check every page of your website for mixed content. Using WP Force SSL's content scanner, it's easy to quickly and efficiently check every page on your website for mixed content. The comprehensive report provided by the scanner will help to ensure that no mixed content errors occur.
Centralized Dashboard
Manage all your purchases, licenses, websites and SSL monitors from one convenient spot – the Dashboard. Streamline your workflow by having all of your client sites in one place.
With a couple of clicks, you can easily check the statuses of your or other sites, adjust settings, and get assistance from the support team. This helps you save a lot of time.
User-Friendly
The plugin is straightforward to utilize and does not require any manuals or coding skills. The makers of the plugin have strived to make it simple to use, even for those who are just starting out.
WP Force SSL Plans
You have three PRO plan options to choose from, they are:
Personal lifetime –
This plan offers a license for one site, lifetime support and current and future assets, a content scanner, real-time SSL monitoring, and a dashboard – all for just $59.
Team Lifetime –
Under this plan, you can have five sites with lifetime support and access to all current and future assets, including a content scanner, dashboard, real-time SSL monitoring, and white-label mode for $89.
Agency Lifetime –
This plan provides lifetime support for your sites, current and future assets, and plugin updates. In addition, it includes a content scanner, dashboard, real-time SSL monitoring, white-label mode, and rebranding.
This Agency Lifetime plan is available for $119 and also has a no-risk money-back guarantee, allowing you to receive 100% of your payment back if you decide to stop using the plugin within seven days of purchase. With the purchase of this license, you can have up to 100 sites.
The Free Version of the SSL plugin
WP Force SSL & HTTPS SSL Redirect is a free plugin available on WordPress. It can help you ensure secure access to your content by redirecting all HTTP requests to HTTPS. It also comes with useful features like HSTS activation, SSL certificate and expiry date check, and localhost support. For additional features, the PRO version WP Force SSL is also available.
Conclusion
The SSL plugin can boost your Google search rankings by marking your website as secure and trustworthy. This will have a positive effect on visitors, making them more likely to visit your site.Issues on your website are inevitable but don't worry with the right WordPress plugins, you can easily tackle any problem you might encounter.