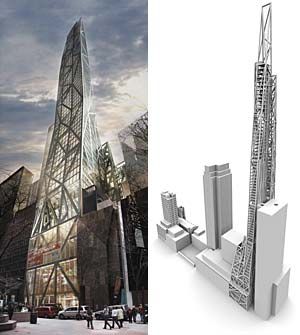 All eyes in New York are going to on the new building rising directly west of The Museum of Modern Art (MoMA) in New York City. The 75-storey building, undertaken by real estate developer Hines and designed by Ateliers Jean Nouvel , when complete by 2012, is expected to loom nearly 1,047-foot. The 17,000-square-foot site has left Hines $125 million poorer.
Thanks to the new building, the Museum now gets an additional 50,000 square feet (spread over 3 floors) of exhibition space over its existing 125,000 square feet. The architecture of the building definitely deserves an applause. The irregular structure based on simple geometrical slopes away from 53rd and 54th Streets to form the glass tower crisscrossed with steel framings. The effect is stunning.

The tower will offer more than serving as an extension of MoMa. It will house a sunken restaurant and bar, and a bridge connecting entrances on 53rd Street and 54th Street. We can also expect a 100-room 'seven-star' hotel and 120 'highest-end' residential condominiums.
The building, tentatively named 53 W 53rd Street, has faced criticisms from some sources, on the grounds of its being too big for its site. Some others, however, welcome the new structure adorning the Manhattan skyline.
Source: Architectural Records