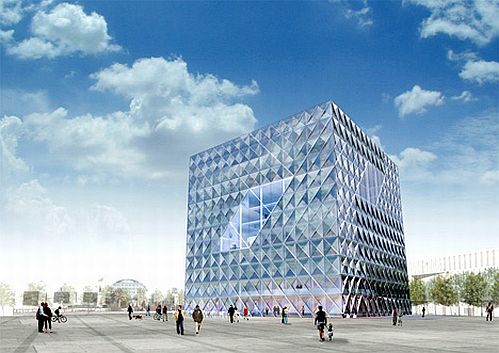 The Cube, conceptualized by renowned architects 3XN, has been chosen as the design for the building, which is to house the new headquarters of the Deutsche Bahn, the German National Railways, in Berlin. 3XN's design was chosen through an international architectural competition. The 'Cube' is to be built at the very heart of Berlin and will have one of the better known street addresses in Europe upon completion, Washingtonplatz.
Combining a geometric-shape with a sculptural expression on the outside walls, the interiors of the Cube will be dominated by a tall central atrium with four levels, opening the building towards the city though the structure is expected to be surrounded by government buildings on all sides. Kim Herforth Nielsen, a partner and principal architect at 3XN is obviously excited at winning the competition,
It is a great honor and a very interesting but also a demanding challenge to be invited to build on a site which is one of the most central locations- not only in Germany but in the entire new Europe. Standing here, you realize that you are on the construction site of history.
The firm returns to Berlin after 10 years, where they first received international acclaim for their design of the Danish Embassy.
Source: Design Corner