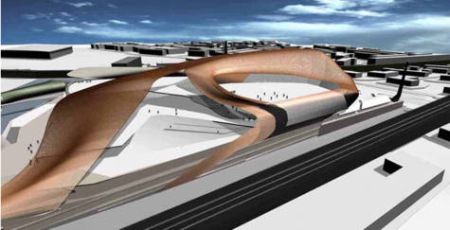 For all those who hunger to visit Mecca for their divine and spiritual purification, a mega Mosque being intended for London stands as a second thought. The mosque will be part of a giant 'Islamic village' situated next to the Olympic site. The architects Mangera Yvars have written that the centre will take up to 50,000 square meters at Abbey Mills in West Ham. The mosque and the surrounding buildings are expected to have a capacity of 70,000 (only 10,000 fewer than the Olympic stadium itself) making it the largest place of worship in Europe.

However, this has also evoked serious queries as well-Tablighi Jamaat, who plans to use the site as their new European headquarters, is known for colonizing towns and if the mosque is built, there is a fear of West Ham being Islamicised. Tablighi Jamaat's current European headquarters is in the Savile Town area of Dewsbury, West Yorkshire, where a mosque and school were built in the late 70s and early 80s and according to one local expert Savile Town has been colonised by him since then.
In this case, the authorities really need to dwell on this aspect critically keeping in mind the religious sentiments of people as well. Religion to liberate and not constraint should be the message. What say?
Via: Dvorak