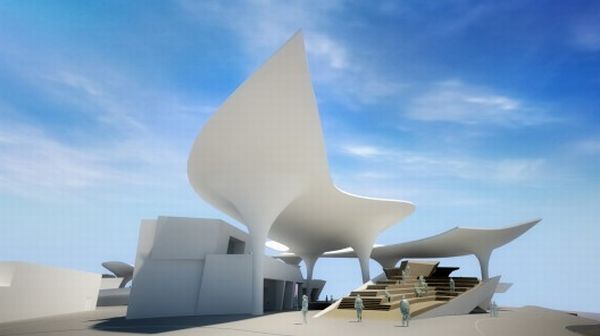 In an ongoing effort to transform Vilamoura into a landmark of European tourism destination, Lusort has planned to redevelop the outer portion of the award-winning Marina de Vilamoura. The project is a part of the redevelopment of the outer portion of the award-winning Marina de Vilamoura. Broadway Malyan landed this project after winning the public competition for the extension of the famous marina, organized by Lusort, the company responsible for the management of the marina.
The center of attraction of the design is the spectacular set of canopies made of concrete that will enclose the majority of the building. Apart from being a structural element, providing shade to the buildings and public areas during summer and protecting during the months of winter, it also adds beauty to the outer portion of the harbor. They look quite natural and in harmony with the surrounding beach. It is expected that they would become the iconic symbol of Vilamoura Marina once completed.
The Lisbon based team of Broadway Malyan, which is currently in its fifteenth year in business led the redevelopment project of the marina. The project included designs for retail and hospitality space as well as office space for the new headquarters of Lusort and port authorities. A space for workshop to support the adjacent shipyard, basement parking for 106 vehicles and landscaped areas were also a part of the design project. The team therefore came up with a distinctive building that would house restaurants, bars, space for public performance and viewing under a huge canopy. The design also takes care of parking and maintenance by providing additional repair dockyards and car parking space at the rear of the building.
The redevelopment project of the Vilamoura Marina is a part of their future project "Cicade Lacustre" aimed at making Vilamoura a unique tourist spot in the whole world. Vilamoura is a locality situated in the Algarve in Portugal and has the capacity to berth over 1000 vessels. Under such circumstances, it would be interesting to see how the locality evolves in the coming years.
Via: ArchDaily