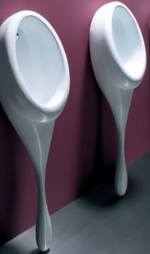 Boys and men, the next time you use the washroom, do it in style! The Philip Watts Design Spoon urinal is the latest in classy bathroom fittings.
Made of cast solid resin, the Spoon is both strong and stylish. The design gets its name from the smooth elegant shape of this urinal.
Not just that, the Spoon is also easy to install, and has a very efficient flushing system!
And all this, for 693.25 GBP