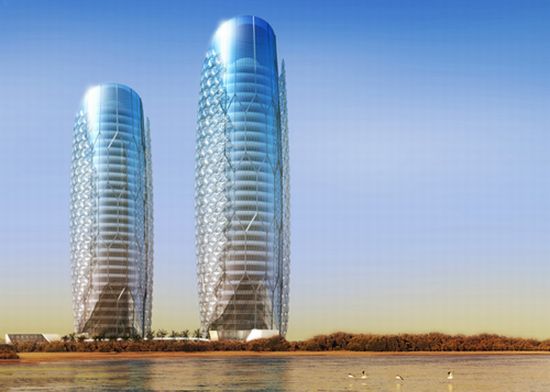 Aedas has emerged the winner of an international design competition inviting suggestions for the new HQ of Abu Dhabi Investment Council. The Council wanted two "landmark towers" that would provide dining, meeting, and conference spaces for council's 2000 employees. It seems that Aedas entry has the right mix of architectural integrity and freshness to fulfill all the parameters. The two towers will be located near Al Qurum beach, on the periphery of Eastern Ring Road, acting as city's gateways. The buildings derive several of characteristic features from a mathematically pre-rationalized form, which in turn was derived from Islamic Principals. Here's what Peter Oborn, Aedas Joint Managing Director, says about the concept:

A key feature of the design is the application of a diaphanous screen that envelopes the most exposed aspect of the building in the form of a dynamic 'Mashrabiya', opening and closing in response to the sun's path, significantly reducing the solar heat gain and providing a more comfortable internal environment.
Great flexibility and economy lies underneath the buildings' crystalline, honeycombed structure. Another key consideration is the adherence to strict standards for eco-friendliness in the blueprints. The two towers will be linked via impressive and picturesque outer spaces, which include a palm reserve and elegant pedestrian pathways. Three sky gardens arranged on the upper levels of the towers will be a further respite from the solar heat on the exposed upper elevation. Proposed to be built on an area of 11,500sq m, the towers will be quite a home for the Investment Council of Abu Dhabi. The structure will rise at about 140 m from the ground and will have in all 29 floors. And as far as the innovative Mashrabiya screen is concerned, preliminary estimates suggest that it will result in 25% reduction in cooling load, having substantial effect in the carbon footprint of the skyscrapers. A well thought out geometric pattern, great building form, novel environmental solutions, and beautiful landscapes in the vicinities, all make Aedas's concept a worthy winner.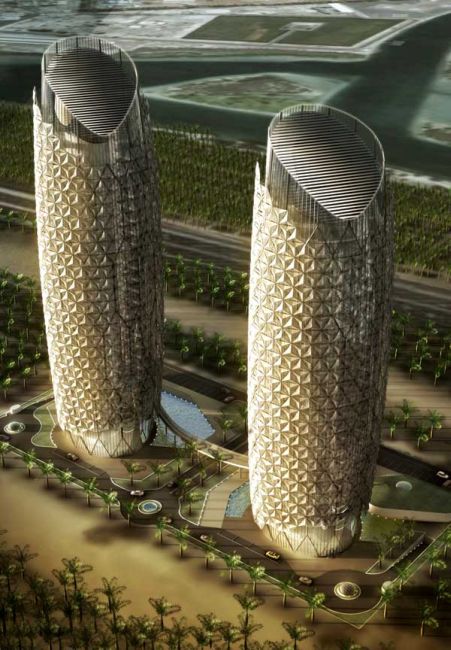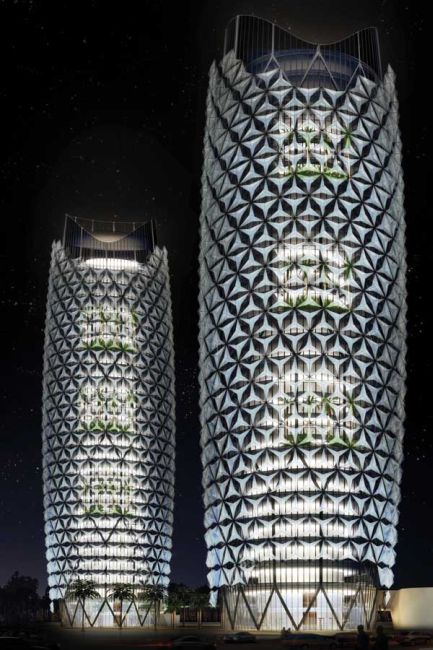 Via: E-architect