Agiled is an online business management platform that is designed keeping in mind the need the basic and necessary needs of any sized business. It is a user-friendly application that helps to enhance the overall productivity and efficiency of every individual working in the company. Through this article we will understand the working ways of this platform and how it benefits you as a company and an individual. 
Introduction to Agiled business management software CRM
Image Source : agiled.app
The CRM is designed to improve and create good client-business management. This online business management platform helps you in project collaboration and client management. All you need to do is fill in the details of the task or project along with the client's name. As soon as you update the CRM, your entire team will have access to all the information needed to completed the ongoing tasks. It also helps to keep a track of potential or upcoming projects so that your team can prepare well in advance. 
Lead management becomes easy
Lead management is a time-consuming task that has to maintained in a careful and proper manner. Instead of wasting time preparing explaining and re explaining things, making a to-do list and so on, you can easily centralize the information by using this CRM. It also allows you to send proposals and estimates with the click of a button. 
The white label business management system for client management
With Agiled, you can easily create a good impression on your clients with your professionalism. This app allows you to sign contracts, collaborate projects and share files with your clients under one single roof. It also allows your customers to see and pay invoices, track the progress of their project, give the necessary approvals and even make chances as and when needed. 
Provide your clients with effective customer support
As an online business management platform, Agiled allows you the flexibility of lending a helping hand and support to all your clients. Through this app, you or your client can create a support ticket to address any issue or concern. Apart from that, the software also allows you set up appointments as well as send and receive messages. 
Agiled performance management tools reduce stress on financial management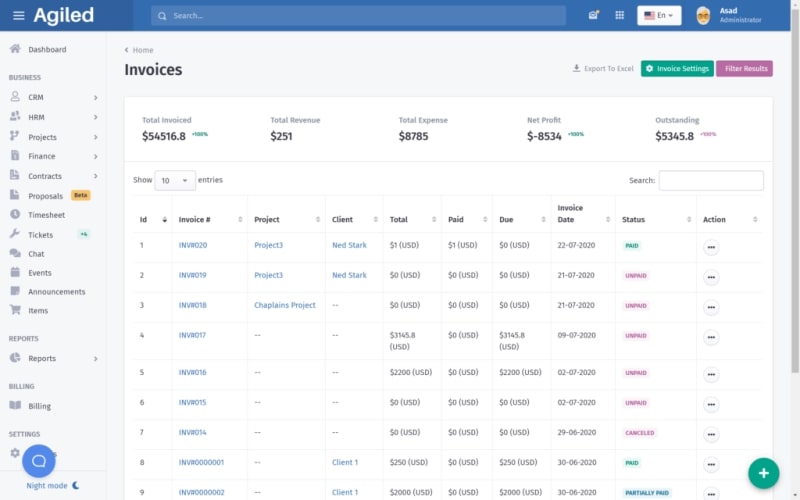 Image Source : agiled.app
Every company has to ensure that they have a good financial management in place. With Agiled, you can easily keep a track of all the expenses and payments that are made or received. You can also create a credit note within a few seconds, pay your taxes, create recurring invoices and even work with different currencies. 
Employee performance and online business management platform
Managing your employees and teams is not easy; however, with Agiled, this problem no longer exists. Through this app, you can track the holidays, leaves and attendance of every employee working in your company through the dashboard. It also allows you to understand how many hours a person has worked on a daily, weekly and monthly basis. 
Agiled business management software helps to close deals faster
Time plays an important role when it comes to finalizing and closing deals. Agiled helps to make this process easy since you can create and send contracts within no time. You customer or client can read the online contract and give his or her consent. All this can happen within a matter of minutes making it faster and easier to get more contracts. 
Professional proposals using the online business management platform
Creating proposals in a professional way is not as easy as it seems especially when you have to do things from scratch. By using this white label business management system, you can save time while creating a proposal. This app offers specialized and customizable templets, digital signing, live chats, and other such features to make communication easy between you and your client. 
Using the online business management platform for projects and tasks
Image Source : agiled.app
Have you ever spent endless of hours trying to manage and keep a track of your projects and tasks on hand? Well, now you can say bye-bye to such time-consuming tasks by opting for Agiled performance management tools. This platform allows you to track and manage the progress of every project or task. You can categorize your projects, create and manage Gantt charts, create milestones and deliverables and so forth. 
Report generation and management through Agiled
As an online business management platform, Agiled allows you to generate and manage reports easily. Through this time saving portal, you can enhance the business and employee efficiency even when you add new customers or tasks to the list. A person can gain access to different types of reports like time log, finance, Expense and income reports and so on. 
Time tracking using Agiled business management software
The time management feature helps you to track billable and productive hours with a simple timesheet and time tracker. The management team and HR department can use the different filters that will help you track every employee in the organization. You can also choose specific dates or time frame for better understanding. 
Subscriptions and sales through online business management platform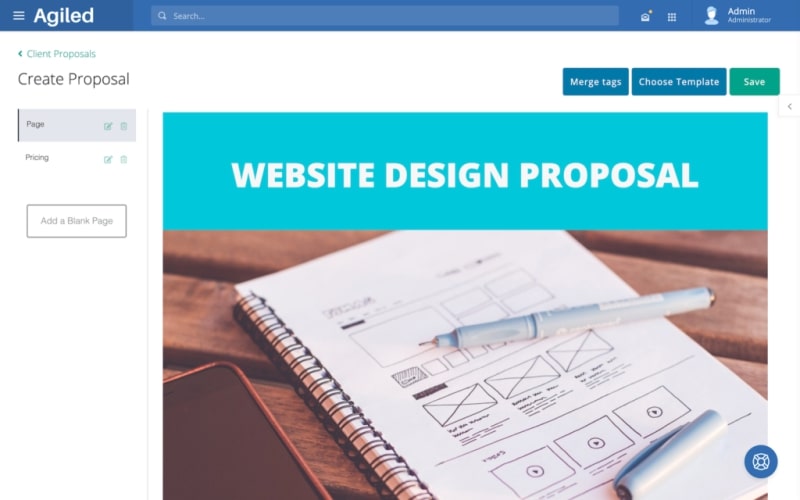 Image Source : agiled.app
We all are aware that selling a product or service is not an easy thing. You have to not only strategize your marketing needs, but also ensure that you handle every subscription properly. Thankfully, this white label business management system makes it easy to track subscriptions and sales without any limit and even update payment gees, rules, prices and any other such changes that your clients would need to know about through this online business management platform. 
A final note on Agiled performance management tools
Having an online business management platform that reduces your work and takes off the management stress is a boon. Agiled is designed to ensure that all your important work is carried out effortlessly. It is not only designed for business, but also gives companies the flexibility to share their work and progress with the clients. This is a noteworthy investment that every business owner should have especially when you want to give a good impression to your clients.