Mobile phones have become as vital as breathing. With ever-increasing traffic one needs something to kill the commuting time. Music is the best way not only to make journeys seem shorter but also unwind. Applications inside a phone are being revamped as per consumer requirements. But somehow the audio portion never seems flawless. With a few perils involved like hearing loss due to excessive use of earphones and uneasiness because of direct listening, one has to be extra cautious.

Bringing together sound quality and cellphone for a great experience is AHHH designed by Paul Schnepp and Jonathan Pinto-Cortez. Place it or fix it where you feel like by simply removing it off its bag. Or activate the Bluetooth, put a halo over your head and bingo, talk endlessly, croon with your favorite music, watch videos that too without getting tired.
Composed of four important elements: a supple leather stock to fix it everywhere, high quality directional sound through halo broadcasting, a facility to clip your microphone onto the jacket plus a cone containing all connectivity, shows the efforts that have been made to make it perfect. AHHH will purify your cellphone usage journey without much damage, of course!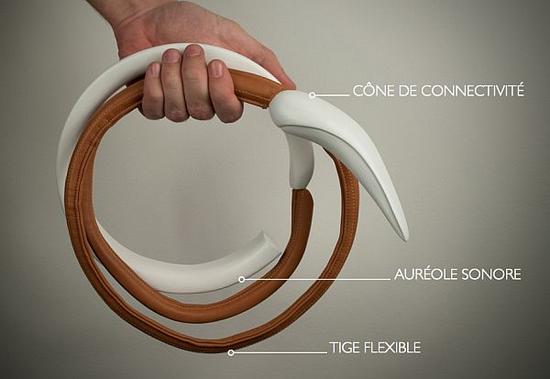 [Thanks Paul]