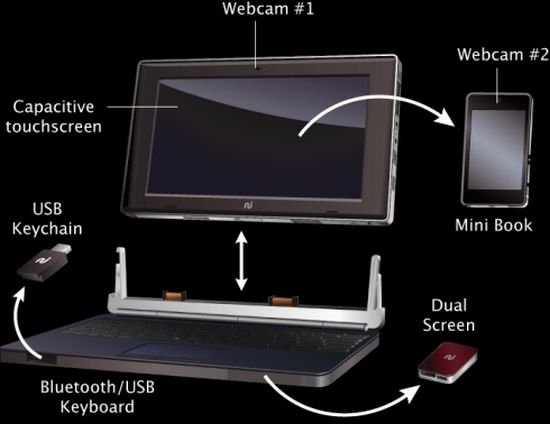 Touted it as an electronic Swiss Army knife, Always Innovating has claimed that its Smart Book is the most versatile all-in-one device ever manufactured. It combines to become a netbook, a tablet, a Mobile Internet Device, free VOIP phone and a dual PC screen all at once.
The Smart Book features a switch the instantly swaps OS's so that you can click between Android, Google Chrome or Ubuntu. You can therefore run the best apps of each OS all in one go without any performance loss. You can plug your mobile phone in the back of the tablet thereby taking full advantage of a larger touchscreen, features and connectivity. The user can even attach or detach the screen from the keyboard, thereby enabling you to enjoy the full benefits of a netbook.
Apart from the design sophistication the hardware comprises of an ARM Cortex-A8 CPU along with 512MB of RAM and 256MB of NAND flash storage along with 802.11b/g/n and Bluetooth 2.1 rounds out the connectivity options. The Smart Book comes equipped with three batteries, giving it an outstanding battery life.
Via: CrunchGear/Gizmodo