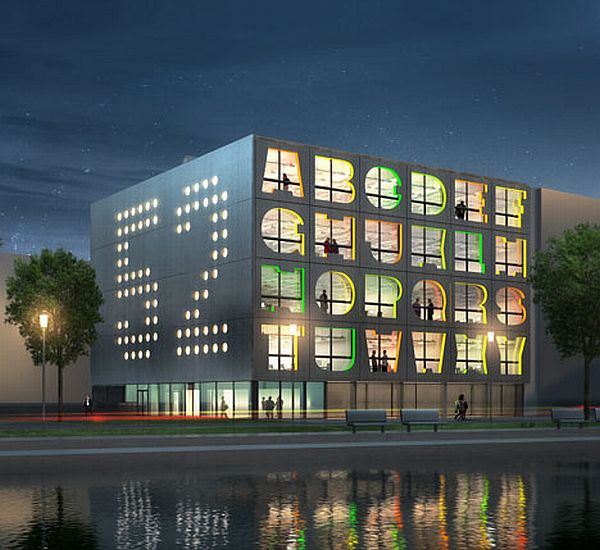 If you live in Amsterdam and are having a hard time making your child learn the 26 letters (actually 24) of English alphabet, then below is an interesting solution. MVRDV (Dutch architects) have erected an industrial office block which has English letters, except I and Q, crafted on its face. Christened the "Alphabet Building," the architecture has been crafted in an ingenious and attention-grabbing manner.

The structure measures 30 x 30 meters and rests on top of a transparent support. The facade has windows crafted in the letters of the alphabet, which are actually an extension of the address of the company occupying it. The east side of this building has windows resembling dots, which read out the number 52. This is the house number of the Alphabet Building that adheres to high standards.
The creative touch seeps in the interiors as well. The architects have stayed away from the double ceiling concept, and have tried to keep the inside rugged. Aluminum, concrete and steel rule the interiors, which have been kept uncovered in most areas. A creative unit, measuring 128 meter square, rests behind every alphabet. The building will be wedged with the best available technology and will be a blessing for innovative companies, small to mid in size.
The outside of this glass building is enveloped with spacious areas that adds to the whole atmosphere. People working in it can leave their vehicles in the plinth, which has been turned into a parking area. Two letters, I and Q, have been given a miss as placing all on the facade was not feasible. Alphabet Building is unique and will soon see a lot of creative minds working, nestled inside it.
Via: Dezeen