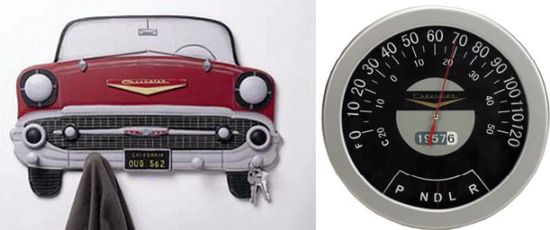 Here's a novel way to pledge allegiance to American cars. Three unique and stylish (manufacturer's claim; justified though) products of everyday use will exhibit your appreciation for Ford and GM in a completely new manner. Below are the beauties that are tagged 'American Classic Collectibles.'
Wooden Coat/Key Rack
Everyone needs one of these at home. So why not go for one that's modeled on a car (for no apparent reason whatsoever). The Wooden rack is a durable and looks cheekily stylish (wow, neat adjectives). It measures 16″ x 10.5″ x 1.75″ and has largish hooks for ease in usage. Comes in 1957 Bel Air variant.

3D Hanging Shelves
Top of the hood is the right place to place things with the 3D hanging Shelves. The shelves are 20" and are just perfect for placing stuff that you normally tend to forget. Or maybe you'll choose to put some car memorabilia on the glass. The shelf is made of poly-resin with painted finish. The package will include all the hardware necessary for mounting operations. Comes in variants of Ford Mustang, Cadillac and Corvette.
Speedometer Thermometers
You don't want to see that temperature of yours to be speeding and yet the Speedometer Thermometer would make you almost wish the opposite. Having a diameter of 11", these thermometers constructed in wood have a glass face and painted metallic finishes. The numbers on dial are in Fahrenheit, much to your relief.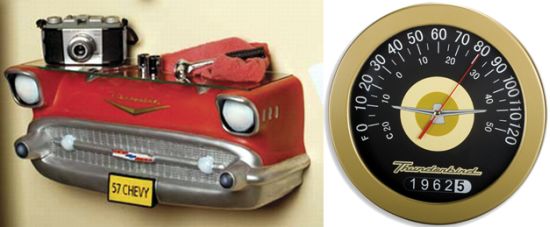 You can pick these items on calcarcover. Prices range from $19.99 to $79.99. Perfect in an auto enthusiast's home.