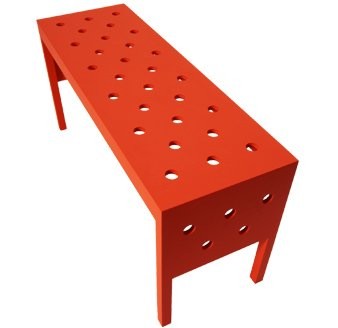 This Swedish bench designed with holes in it has been the object of desire since ages for its uniqueness.
The new version of Asplund Bench AIR, designed by Thomas Sandell of Asplund, is a lightweight metal bench which retains the elegance of its old wooden counterpart, ofcourse, the holes still grace the bench.
The light weight design of the Bench Air makes it quite a useful piece of furniture that can be used as a side table or a dining bench and even as an outdoor bench.
Asplund Bench AIR is available in dark grey, white and coral.
Stockholms is selling this unique furniture for $699.00, which includes freight and duty from Sweden.