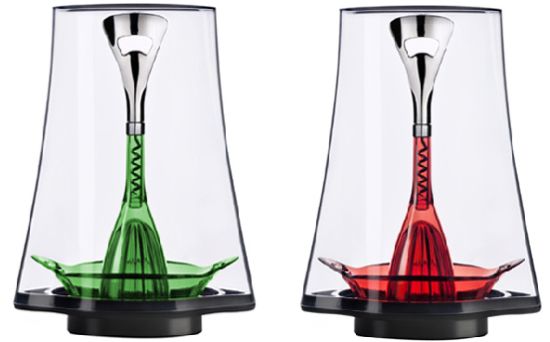 Featuring an artistic flare that is a step above the ordinary, the BarTule manages to combine multiple bar tools into one handy device. It's versatile, highly functional and elegant on design. It could be the ultimate addition to any lavish home or restaurant bar. Designed simply for accessibility and efficiency, the BarTule is an eight-in-one instrument that saves space while offering the versatility and quality liquor lovers look for in an attractive bar tool. The unique barware design features an ice bucket, wine cooler, bottle opener, corkscrew, measuring cup, fruit squeezer, salt rimmer and coaster. High density polycarbonate has been used for the ice bucket/bottle chiller, while the bottle opener and simple-design corkscrew are made of durable stainless steel. The BarTule's easy-to-read 4 oz. jigger and citrus juicer with built-in handle and spout are constructed from 100 percent recycled material. A client named Jon Liebling said…
Thanks again for the BarTule! I love it! I use it regularly and often wonder how I got through life without it. As the owner of adplanet.net, and someone who frequently entertains in his home, I appreciate its uniqueness and utilitarian value. No home should be without one!
The BarTule's patent pending design is available in six vibrant colors, including blue, clear, green, red, yellow and smoke, so that it best complements the surroundings. Moreover, it's indestructible and dishwasher safe. From top to bottom, the BarTule is a functional beauty to look at. Yours for $50!