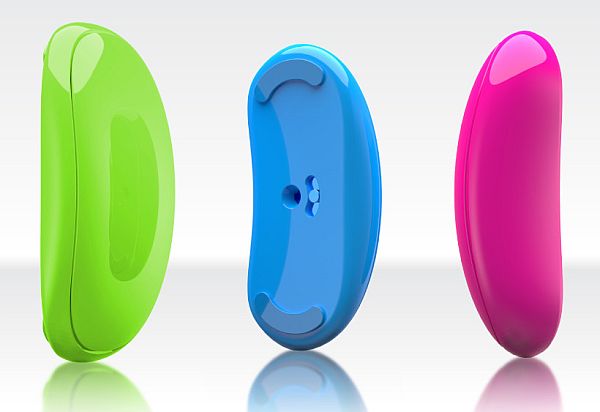 In computing, a mouse is an important component to control graphic user interface in a fine manner. The motion of a mouse gets converted into the motion of the cursor, which makes us perform important tasks. To change the whole usage experience is Bean, which can easily work with two Bluetooth profiles at a time.
The mouse has been crafted in an eye-catching colorful manner from bioplastic. It is a universal ergonomic mouse that, unlike normal ones, has a single button. The button is touch sensitive and has been wedged with tangential symmetry. Its flexibility to click at both ends makes it apt to be used by both left and right hand users. The mouse intelligently senses the position of the palm which in turn finds out the appropriate hand orientation.
Bean is powered by a single rechargeable battery that can be substituted easily. All you have to do is remove the top button and swap the battery with a fresh one. Bean is very comfortable to use and its flexibility to shift between two Bluetooth profiles makes it all the more lovable.
So, if you want a stylish and intelligent partner for your cursor, then Bean will fit in that slot perfectly. Use it in office, at home or while traveling, Bean with its neatly carved façade will easily fit in your lifestyle.
Via: Rene Lee Designs