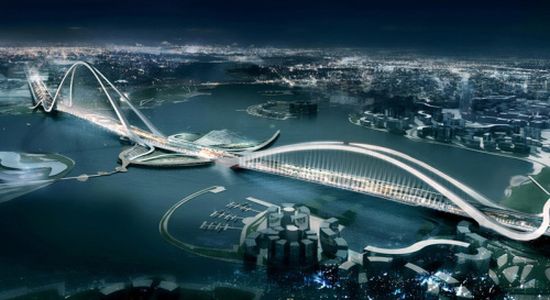 This once nomadic desert land keeps making our jaws drop every now and then. With their lush green spaces within the city, their world famous shopping festival and not to mention their truly awe inspiring infrastructure projects, Dubai has become a civic model worth emulating. The latest project in their kitty is the arch bridge and, going by its tradition of always making a loud splash, this is going to be the worlds largest.
The project is expected to finish by 2012.The pictures show an artists impression of the bridge. A few interesting facts and proposals associated with the bridge after the jump.
– It's one mile long and 670 feel tall.
– It will have 12 lanes for traffic.
– It will cost $817 million dollars.
– The bridge will carry more than 2,000 vehicles per hour in each direction.
– A metro line will run across the middle.
Wow! This is probably the only city on the planet today which can truly stake a claim to being futuristic.
Source : Inventorspot