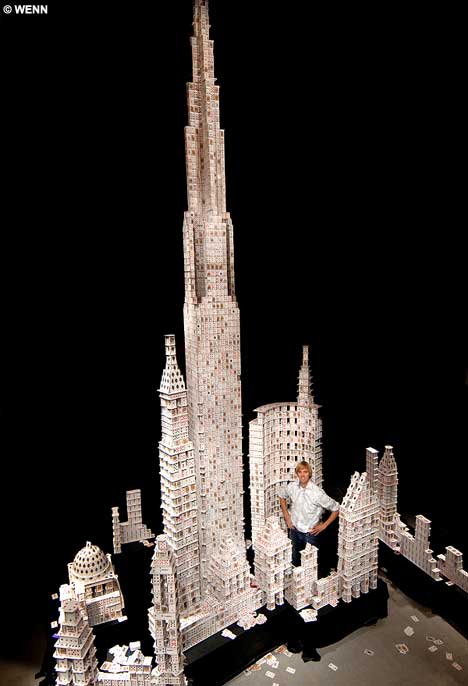 Once in a while, I do try making card houses. If I can make 4 cards stand balanced against each other for 30 seconds (which is a rare event), my conceit becomes quite unbearable for those around. After coming across Bryan Berg's story, I humbly bow and promise to the world that I would never ever try building a card house again. This 33-year-old American turned a much popular international pastime into a profession. And soon reached unbelievable heights in the profession.

He splashed his name across the Guinness Book of World Records for the World's Tallest House of Cards in 1992, at the age of seventeen, with a tower…hold your breath…fourteen feet, six inches tall! Since then, there was no looking back…rather, there was no looking down! The cardstacker's latest 25ft skyscraper has broken all records-his and others'. His latest creation, which took five weeks to build, stands at 25ft 9inches tall and was made from 1,800 decks of playing cards. He had no reason to stop other than the obstructing ceiling! The 'gravity deifier' has created a variety of breathtaking sculptures over the years including models of cathedrals, skyscrapers and stadiums He is confident of making his card sculpture soar to greater heights (even 100 feet) in near future!
In case, you are awestruck at his wonder feat, then I must tell you that he doesn't use anything to stick the cards together. He owes the constructions only to the combined weight of the cards and his special grid structures. And of course, all credit to his endless patience. He is happy with his work and the immense satisfaction it brings him. He says:
I like what I do. This is no kind of torture or boredom for me.
Source : Daily Mail