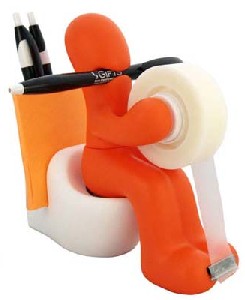 If your work desk is always cluttered, get organized by putting up the Butt Station from Dazzleconcepts! It's probably called so because the dude sits firmly with his butt stationed in his place holding all things at your disposal.
The Butt Station is a tape dispenser with cutter, pen and memo/card holder, and the magnetic rump holds paper clips! It's bold enough to make a statement, but tasteful enough to keep the conversation going. Not only will the fun colors perk up your desk, butt this is one functional derriere. The Butt Station is a perfect gift for students, graduates, or anyone with an office job and a sense of humor.
The dude who'll help you keep organized comes in three pleasing eye-candy colors and costs $16.