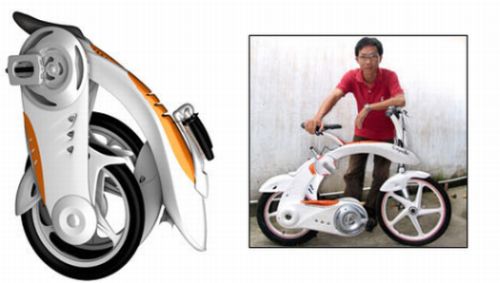 Inspired by the mythological creature Unicorn, who controls the star Capella in Greek folklore, designer Truong Minh Nhat has come up with a unique electric bike that folds into a backpack. Named as 'Capella,' the foldable bike is so lightweight and compact that users can effortlessly carry it on their back, while cruising through crowded city roads. Running on a battery, the electric bike can move at a top speed of 30 kilometers per hour for 12 kilometers after charging it for two hours.

Design Status:
The Capella is a concept portable bike design intended for teenagers who simply loves to ride bicycles.
Usability:
The Capella is a perfect city bike that promises sustainable and hassle free commuting in the urban environment. Moreover, the bike neatly folds its chain, chain-ring bolt and wheels into the body, helping the users to escape the crowded roads with minimum fuss.
Via: Core77
Designer:
Truong Minh Nhat is an industrial design student at the Ho Chi Minh City University of Architecture.