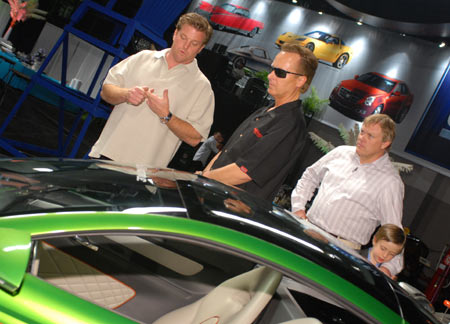 At the heart of SEMA's worldwide fame is the creative genius Chip Foose, who has now come to be the very face of the American automobile manufacturer. So much so that people from across the world queue up just to see this fantastic and charming automobile designer.
The SEMA show opened at Las Vegas on Monday and amazingly the designer of the automobiles rather than the automobile themselves have been the centre of attention. Stories of Brazilian news media rushing to meet the American have been riff and the hype over the rockstar-like designer has been escalating.
But it would be a huge mistake to believe that Chip Foose is all about style and no substance. In fact, the American has both substance and style in the right proportions and his fame rests on his ability to design as brilliantly as charm people. SEMA's rise to prominence owes much to Mr. Foose and even the vice president of marketing and communications, Peter McGillivray, acknowledges the unparalleled contribution by Mr. Foose.
The 2007 Specialty Equipment Market Association trade show at the Las Vegas Convention Center is in its third day now and people have been flocking to watch the exhibition. The presence of Chip Foose has certainly helped the show to gather publicity and an enchanting image that should see SEMA progress in the long run.
Image Source: Cars Buyers Notebook
Source: The New York Times