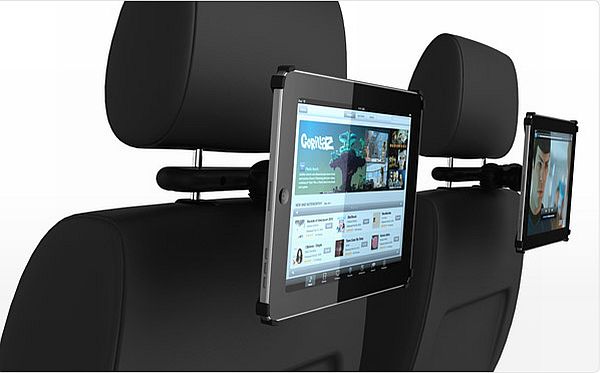 So, you are a proud iPad 2 owner and love flaunting it always. A lot of stands have been made on to which this sleek gadget can rest but when it comes to using your iPad in a car you either place it on your lap or hold it in your hands. This can get a bit tiring if the ride is long. Keeping its usage while traveling in mind, Coulvue for iPad 2 from TouCoul has been designed for a richer experience.

CoulVue will act like a stand for your iPad which can be fixed behind any headrest of a car. In other words it is compatible with headrests of almost any car. This 0.88 lbs stand will allow backseat passengers to watch their favorite movies, listen to the music of their choice, play games and surf the net easily. The arm of this device is supple and can be pulled out as per your whims and fancies for a much better viewing experience.
While traveling with your family and friends simply switch it on the share mode and the screen will move towards the center and position it between the two headrests, so that everyone can enjoy and watch together. CoulVue has been wedged with a function which will allow the passenger to tilt/twist. One can easily spin the iPad in a portrait or landscape mode plus rest it in a specific angle for better viewing.
The biggest threat while traveling is dropping any gadget if the ride gets a little bumpy but CoulVue has been fashioned in a manner which will provide maximum strength and protection to your iPad. It will tightly hold the iPad in place and never let it fall. One can easily place the iPad and take it out from the stand and because of the presence of soft coated inner lining the fear of bruising your most loved gadget will take a backseat.
So, if iPad2 is your best companion while traveling then CoulVue will definitely leave you impressed with its functional nature. Simply install it in your car and never feel bored or tired.
Via: toucoul