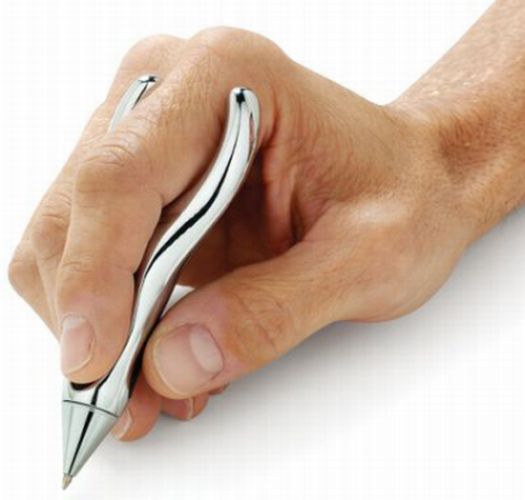 Examination time is really trying and stressful, not just for the mind but the body too. The students are required to pen down a lot of text in a timed atmosphere, often resulting in bruised or cramped fingers. Featuring an ergonomic rubber grips on three sides for your index finger and thumb, the 'Cramp-Free Pen' gives an easy grip for smooth and stress-free writing during stretched sittings. Finished with sturdy aluminum, the ballpoint pen eliminates pressure on the fingers by employing the weight of the hand to provide the downward pressure for writing. The Cramp-Free Pen, boasting a luster chrome finish, comes with two black ink refills, ensuring long lasting writing sessions without any interruption.

Design Status:
The Cramp-Free Pen is a ready product that is available in the stores for $30.
Usability:
The Cramp-Free Pen is a functionally designed writing device that will certainly enhance the writing capabilities of the users. It'll prove more than handy for students participating in theoretical exams as well as professional writers.
Via: Woohome