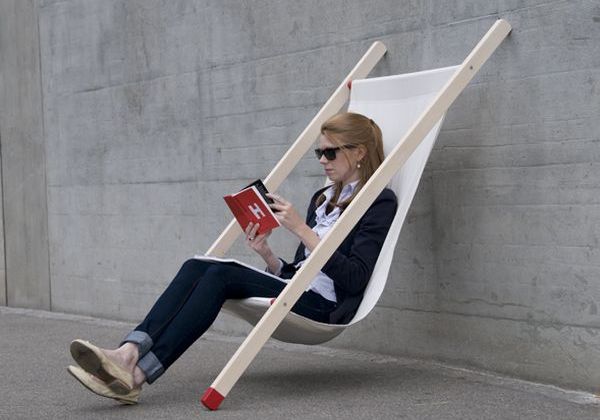 This is clearly something that you would find at the wrong end of the "truth or dare" game, right? Perhaps, that was how the idea for this peculiar chair came to its designers. Dangerous as the chair appears, its creators, Fabian Bernhard and Thomas Burkard of design studio Bernhard Burkard, assure us that that the chair is fitted with enough anti-slip coating on its stand to make it perfectly safe for every surface that would provide it the correct angle.
Purposed as a deck chair (really? You'd want to sit on this on a deck i.e., a few feet above the ground?), the unique piece of furniture requires to be leaned against rails or walls in a flat angle to be absolutely safe for use. So I'm guessing if you slept though most of your high school geometry class, you're gonna have a bit of a problem getting this chair to work for you.
I'm all for experimenting and the chair looks technologically sound enough (I mean upscale furniture designers wouldn't lie to us about a possibly high-priced chair being usable if it wasn't, would they?) but I wanna ask its creators one thing- when you can go the lengths finding the anti-slip coating (which I guess isn't something I can buy at the neighborhood hardware store), why cheap out on two additional pieces of wood for the frame?
I guess it's not for my regular Jane mind to question the genius of artists like Bernhard and Burkard and I would consent that it is a great statement piece if you're as cool as Prince Harry. For the rest of you wannabes, this chair really might be stretching it too far!
Via: Trends Now