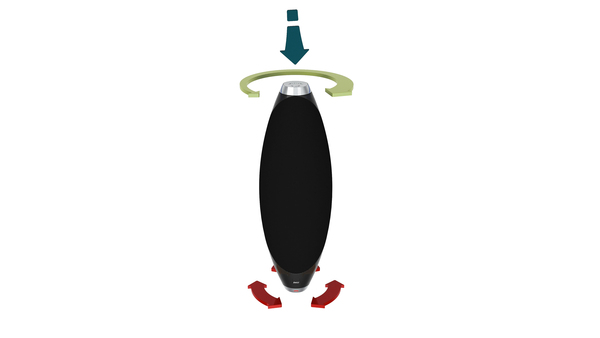 Developed as Masters Thesis project in collaboration with Danish Audiophile Loudspeaker Industries (DALI A/S), the Wireless Multi-room Loudspeaker by Danish designer Thomas Holst is an interesting new concept that blends top-of-the-line audio technology with user-friendliness. Most of the users have to set up a dedicated space for their music players and additional speakers with messy cables installed if the users want to listen to music in another room of the house or they have to opt for portable music players, which, at times may not deliver as powerful performance as a larger, sophisticated set.
The Wireless Multi-room Loudspeaker looks at free users from the dilemma by allowing them the ease to simply install these speakers in any room without moving their entire audio console and music library. The elliptic loudspeaker plays music wirelessly with the user being able to connect one or more loudspeakers to the unit allowing them to listen to the music in multiple rooms without having to manually connect cables.
With two aluminum wheels fitted in the top and bottom, the loudspeakers are easy to transport while a handy stand and wall brackets allow them to be stood on tables, mantles and shelves or hung on the wall; horizontally or vertically.
Most of the function controls like the on/off button, the volume button and the buttons for selecting music source, are all integrated directly into the loudspeaker. Users simply have to change the setting on the loudspeaker instead of going all the way to where the main media console is. A floor and shelf stand, wall brackets, an additional bracket for portable music players, a sub woofer and a remote control come bundled with the loudspeaker. An adjustable and minimalistic design allows the loudspeakers to fit in seamlessly with all kinds of modern decor as a piece or art rather than an unseemly gadget.
[Cheers Thomas]