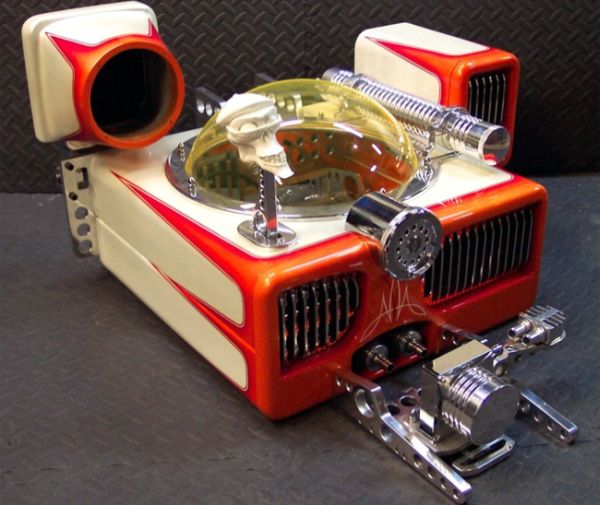 Artist, cartoonist, pinstriper, and custom car painter Ed "Big Daddy" Roth inspired a lot of artists to do their "thang" when he created the stunning Beatnik Bandit way back in 1961. Of course, back then Big Daddy must have had no idea that his fab set of wheels would inspire another modder to create a similar piece 40 years in the future. Since in that era computers weren't the addiction that they are today no one could have imagined that the spirit of the Bandit would live on in a custom made PC!
Christened "BaDassumption," the unusual PC was custom built from scratch by Pieter Bijleveld who also goes by the name Dutchcedar. The PC is designed to be a tribute to Roth and his Beatnik. The artist had been a fan of custom show mods as a child and used the style to make a PC that looks unworkable but does the job pretty well.
The PC itself is an assortment of mini masterpieces created by specialists who chipped in with custom parts. Ten CPU water blocks with four G-1/4 inlets at the top and the same number of G-1/4 outlets on the underside were built and designed by scopEDog. Billet Machine created a bespoke aluminum cover and PolarFLO made the chrome-finished pump.
A linear actuator is activated by the Beatnik Skull knob in cast resin that was machined to fit on the shifter. The actuator lifts the cylinder reservoir, the radiator shroud and the custom bubble top. Aluminum plates were used to construct 5.25 optical drive pod. A sleeved 750W PC Power and Cooling Silencer is housed in the right side of the pod and comes painted.
The aluminum top cap, the titanium hold-down brackets, the copper base and the acrylic center were all machined by Pieter who also milled an air duct system from aluminum to be mounted on the three EVGA 8800 GTS 640MB video cards with EK water blocks in order to cool the PC.
To finish the 60's show mod look, the artist used shades that matched the bright candy color in vogue 40 years ago via a bespoke paint job that was customized by laser cut pin striping graphics in vinyl and airbrushed colors provided by Amos Graphics in Sonora, California.
Via: Mnpctech