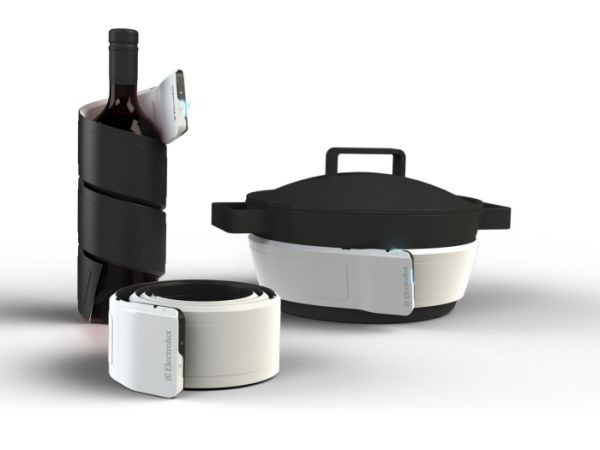 One of the 8 finalists at the 2011 Electrolux Design Lab competition, the Ribbon is an innovative new food heater/cooler concept by Enzo Kocak. The competition asked students to integrate Intelligent Mobility within home appliances which would allow users to use kitchen gadgets on the go.
The Ribbon is a mobile device that users can wrap/drape around their food containers to cool or heat food without having to stick it in a microwave or a fridge. The device comes with two separate planes for heating and cooling functions. The dual-sided device has dozens of tiny battery-powered thermoelectric cells on each side that cool or heat food and drinks.
The flexible, shape retaining device bends and flexes with a wire-like rigidity allowing users to easily wrap it around any food container of bottle. The rubberized flexible polymer shell of the Ribbon has copper linkages between the cells inside that maximize the device's energy efficiency. The device also has magnets in its embedded design that help users wrap the Ribbon around larger ferrous pots and pans to prevent it from slipping off.
The modular design of the Ribbon is perfectly adaptable to food containers of all sizes. The device easily splits into four segments that can be reattached side-by-side to form rectangular hot/cool plate or used normally as a wraparound heating/cooling device.
Dual sided mirrored design allows the wrap around heating/cooling system to be used on both sides. To set function, users simply have to press either of the two control buttons located on the head where the black and white sides entwine allowing users to increase or decrease the temperature of the Ribbon. Pressing both buttons at the same time switches the device off. The LED line along the side of the control bar indicates whether the device is active or not and also indicates the amount of charge available.
The device can be recharged with a DC power adapter or through thermoelectric generation. The good thing about the device is that when it is not in use the cells can convert excess heat back into electricity so you can use the Ribbon also as a power generator for other small devices. The easy to carry Ribbon quickly winds into a compact coil so users can take it anywhere with them and heat/cool food or drinks or lunch packs on the go or even keep groceries fresh on the ride home.
[Cheers Enzo]