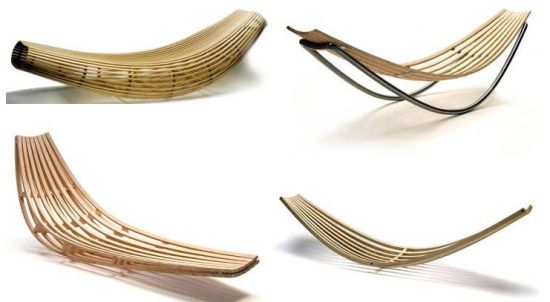 Dave Trubridge has come up with something so unique it seems he has picked up recluse personified from the lap of Mother Nature. He has recently launched his one-of-its kind range of Rocking Recliners consisting of the Raft Recliner, the Smile Recliner, the Glide and the Sling. All of these have unique shapes made from a mixture of ash, beech, teak and stainless steel. Seems to be a good mixture of organic and inorganic stuff.
His designs are exceptional and exclusive as he says that he is inspired for such creations from excerpts of the immense beauty laden in Nature. As far as the present range is concerned he picked up the idea of such awesome and comforting shapes, viewing such landscapes as 'where seas break on beaches' and 'where land and air meet on mountain ridges'. Dave's stupendous love and appreciation for Nature is precisely the reason that lead to such invigorating honesty in his designs and makes it evident that his purpose is to celebrate nature in its true quintessence.

So if this man here has attracted your attention to such comforting recliners, which merely serve to wholly dilute the revitalizing virtue and the brilliantly realized organic charm with the simplicity of design ethics, then I am sure you shouldn't make any further delays and buy one of these stepping one-step closer to the eternal peace hidden in the lap of Nature.