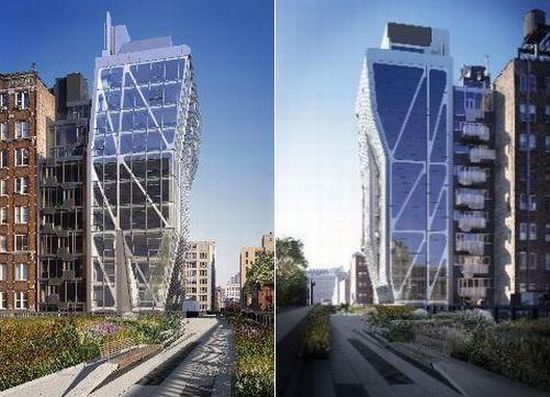 It is conspicuous by the contrast that it sets. The HL23 is designer Neil Denari's vision and it is slowly transfiguring view in Manhattan's west Chelsea. The LA-based designer has glorified the area with his glass and steel monolith that is slowly spelling a condo boom in the neighborhood. The High Line Park is slowly and surely taking shape as the elegant plethora of artistically bent architecture but the current hot spot has to be HL23 – a building that has provided momentum to the changing landscape. Of course several of the big names (Jean Nouvel, Shigeru Ban) are working the vicinity but Neil Denari's creation is most fascinating among all. And what is seemingly catching everyone's attention is the contrast between the quiet green surroundings and the industrial-style building design.
The HL23 is a 13-story tall building, built on a mere 25-foot slot of land. The metal and glass beauty slowly rises and unfurls on diagonal braces, bending east over the old elevated railroad. Even with all the constrictions imposed on by the zoning laws, the designer brilliantly adheres to each one of them, still delivering an awe-inspiring marvel. Denari, confessedly, is influenced by the Italian designs of 60s and 70s and he oozes finesse and style in HL23. The diminutive building might not have much to offer in terms of its size, and yet somehow it is employing a rare-to-be-seen level of architectural detailing.
The prices on this amazingly crafted building cost around $2.65 million for a two-bedroom (1,870 square foot site) to $10 million for the two-floor penthouse. The developers surely are banking on Denari's unique designing marvel, even in the midst of a housing slump.
Via: Bloomberg