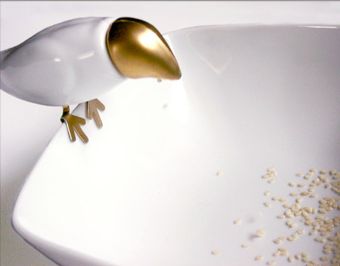 Wanna bring some fun and excitement into the monotonous act of having soup? Get home the 'Der Suppenvogel' or the soup bird and let it perch on the edge of your soup bowl. Mere sitting of the bird won't do any good…the real fun is yet to come.
Just wind the bird and guess what it will start strewing sesame seeds or your favorite herbs into your soup.
Not just this, the cute golden bird will also move up and down to bring some animation into the routine and you'll never feel lonely at the breakfast table…even if you have no companion.
Designed by Sabine Scheurer, Der Suppenvogel is available only in Germany as of now.
Via: DesignSpotter