Homes are getting modular by the day and so are the storage solutions. While space crunch is really a problem when it comes to adequate storage solutions, designers are coming up with innovative storage solutions that are not only space saving but are multi-functional and chic too.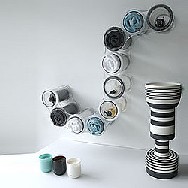 Take a look at the stylish and multi-functional storage solution called Design Chain by Alan Huck, a New Zealander. It is made from crystal clear polycarbonate and is linked together to form a series of tubes that will hold anything from wine to flowers, magazines to utensils, remotes to mobile phones.
This piece is designed like a bike chain and can be used in just about any place and can be stacked in endless configurations to suit your needs and decor; what's more, it gives a whole new dimension to the place as you change the configuration of this versatile piece.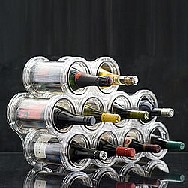 The material is kids safe too, so kids are going to have a good time working out the permutations and combinations of the stacking options to suit their needs.
'The Designchain can be mounted as a sculptural shelving solution, stacked on top of each other horizontally, stood up and used vetically or even split up into smaller units. Because of it's modular construction it can be added to or 'grown' by attaching it to another designchain'.
The Designchain available at Charles and Marie costs $190.