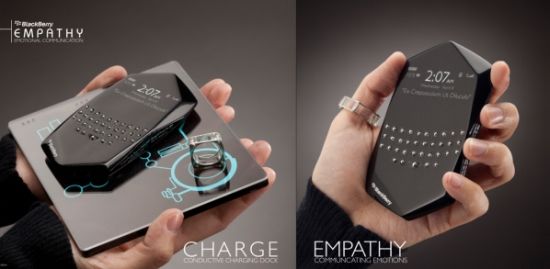 The trend
In recent past, social networking has emerged as a popular medium, especially among gen-next, to interact with friends and associates and discuss their day-to-day or business activities. Making the most out of the new trend, designers are working on different portable gadgets that promises a better platform for social networking not only within the our walls but on the move as well. The "Blackberry Empathy" by designer Daniel Yoon is an identical phone concept that apart from regular verbal communication also enables the user to go through the activities and updates of their friends, while reading the emotional state, using a biometric ring, of the wearer.

The Inspiration
Communication technologies may allow interaction on an entirely new level; still users feel cramped to communicate their true feelings on certain occasions. Intended to integrate the concept of social networking with human emotions, the new cellphone employs biometric technology to sense and share the true feelings to ensure a better communication among users.
What makes it so special?
Based on the idea of a mood ring, the futuristic cellphone allows quick status updates to help you know who is ready for a conversation and who is busy and cannot be disturbed. Connecting the user straightaway to popular sites like Facebook and MySpace for quick and enhanced messaging, the Empathy includes proximity sensors that let you sense the emotions of the occupants when you enter the room, as the emotion chart converts the feelings into a visual timeline. The concept phone also features movable keys, translucent tactile keyboard and flexible OLED screen, together with heads up display (HUD), double sided screen (clamshell) and slide-out split keypad to enhance the experience of the user.
Reflecting the deeply divided paradox of human nature and emotions with its asymmetric form, the Empathy integrates a keypad that changes color according to the emotional state, sensed from messages and phone calls, as the biometric ring transmits the body signals of wearer and sends data to the main device for interpretation.
What's in it for me?
With Empathy Phone, now you will be able to sense and respond to the real feelings of your friends, associates and family members, through popular social networking sites, in a better way. The new Blackberry phone is easy to operate, as one can easily adapt to it. All you need to do is just pick the phone, wear the biometric ring and then log on to any social networking site to sense the feelings of your friend. In case, you don't wanna share your deep emotion with others, you may avoid it by simply removing the biometric ring.
What's next?
The concept of Social networking through portable devices is already popular among the masses, but the biometric technology will just take it to another level. And with latest innovations in technology, the day isn't too far when you would be able to do live video chats using your mobile handset on the go.