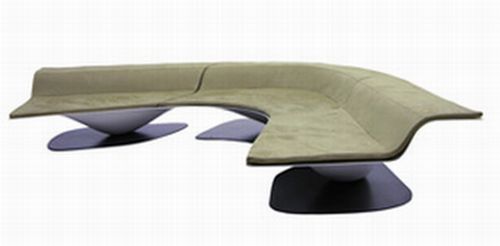 Don't you wish for a piece of furniture in your living room that would be unique, stylish and extremely fashionable? Your wishes can now be realized!
Presenting Dish Sofa-a unique sofa, designed in the form of a simple dish, that is sure to add a dash of style, panache and uniqueness to your living room decor. The structure of this sofa is such that, its elements can, in principle, be put together to form an unending row.

Adding to the uniqueness of this sofa is its appearance. The sofa looks as if it is hovering, somehow retaining its balance. In reality, the sofa rests on one or more hemispheres respectively, which lends stability to it. The even surface on which the sofa sits is almost invisible at the first glance ( the bottom of the hemispheres has been slightly smoothed for this purpose).
The lower part of the Dish sofa has a futuristic polyester design and adds style and elegance to your living-room. The Dish Sofa was awarded the Red Dot Award for product design in 2006. Get hold of the Dish Sofa now, and see your home decor gain in style and fashion!
source:red-dot