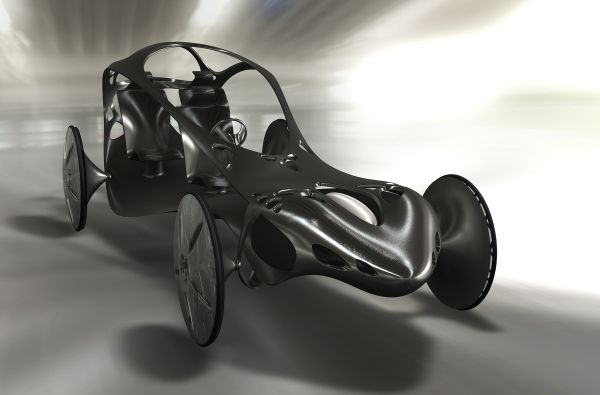 Sang Jun Lee (24), Seong Been Lim (25) and Kyung kuk Kim (23), students at the Kookmin University in the Industrial Design Department, have designed a car that will not only cut air pollution but also rum smoothly on the road. EALO is a car driven by electric power that will help keep Seoul green and pollution free. With wheels that will help you experience a smooth drive, its organic silhouette will consume minimum electricity and help you cover more distance.

To avoid any bumpy ride the vehicle comes fitted with a fine wheel and suspension. Wheels have been given the shape of a branch which is light, flexible and sturdy. Minimizing the shocks are oil pressure suspensions in each split. Even when there is no air inside the tire, a second split suspension helps provide soft reactions of the tire.
The facade has been inspired from the microscopic image of a bone. The holes made on it lighten the weight, reduces resistance and makes the whole structure tough. Excellently stabilizing the centroid at any point of time and place are the wheels and electric motors of EALO, that move together like a living being.
The shape has been inspired from nature hence an added effort has been made assure it protects our beautiful surroundings as well.