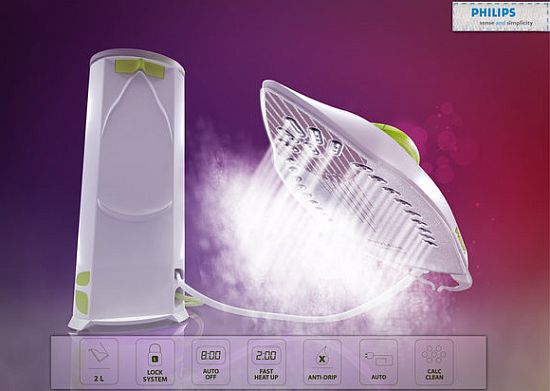 Developed for Philips, the "Easyglider" by Portuguese Studio NAMIC is an innovative steam iron concept that features a new gripping method to prevent repetitive strain injury (RSI), making ironing safe and easy for the user. Presenting an ergonomically correct design with an ultra sleek base, the new iron is easier to carry and operate anywhere, anytime. Placing the steam controller (central button), activated by squeezing it against the core of the iron like a trigger, behind the fingers, the iron concept allows better control over the steam generated that constantly fluctuates between the minimum and maximum squeezing pressure on the button.

Covering the hand interface with a gel membrane that adapts perfectly to different users, the Easyglider sliding over the surface is as smooth and easy to use as running a computer mouse on a mouse pad. Integrating "posterior legs" capable of bending and sustaining the weight of the iron due to a silicone element with circular steel springs placed between the main body and the reinforced plastic double heel, the iron can stand by itself without any additional support. In addition, the legs prevent the cords from dragging over the clothes.
Optimizing the base shape and component distribution to maximize water capacity, usability and easy maintenance, the Easyglider also touts an upper handle to provide a comfortable and secure grip. While the base has three wheels with lock mechanism to make ironing comfortable both on the ground and support table. The detachable water tank with a volume of 2 liters generates adequate steam for nonstop ironing. In addition, the top console contains all the indicators and buttons needed to operate the iron base, and two buttons at the bottom rewind the cords into the base. When not in use, the iron/base folds into a compact unit for easy storage and transportation.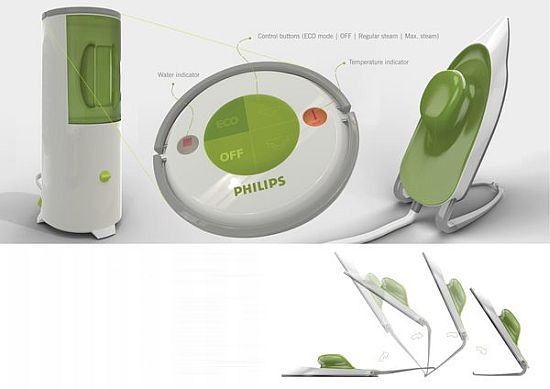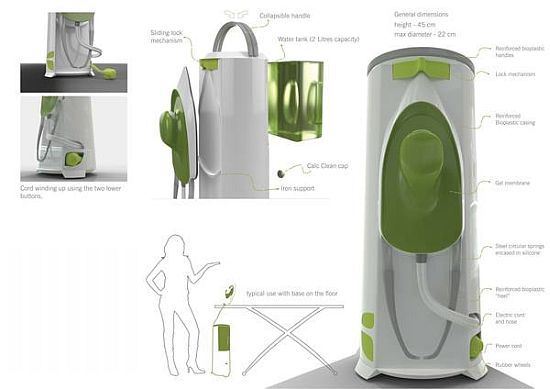 Via: Studionamic