Here is a list of schools that stand apart from the
traditional school layouts in their unconventional concepts,
locations and patterns. Have a look and search for the one that fascinates you
the most.


1. The
Cave School,
Ziyun, China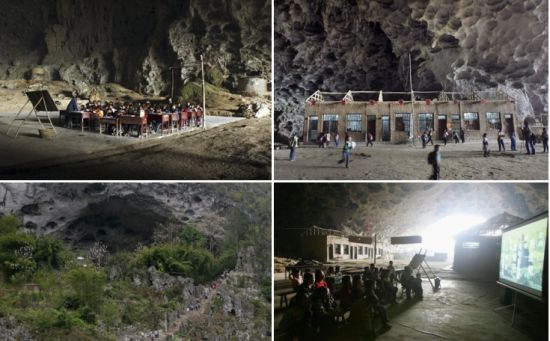 The above pictured cave school is the primary school in China's
Guizhou province and as one can see, it is probably the only school that
functions completely in the natural surroundings without a speck of man made
architecture. The school building is a huge naturally formed cave inside a
mountain. I think this is an amazing classroom that one would never like to
skip. This innovative idea will surely help reduce deforestation to scale
artificial monuments and buildings.
2. The
Underground School,
Northern Virginia, USA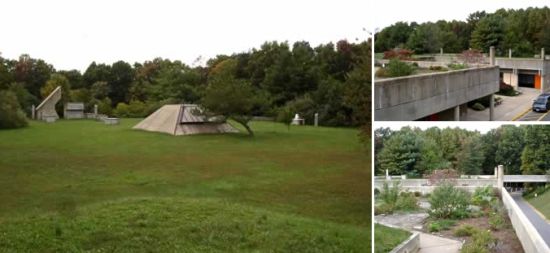 Second on the list stands or rather 'hides' is the Terraset
Elementary School in Reston,
built under the earth. The school owes its origin to energy crisis in the early
70s, that led to the creation of this architecture that was less energy
consuming as possible while providing all the necessary facilities to the
students at the same time. This school hides beneath a small hill in 14 acres
of woodland that was flattened which was later covered by earth, placing the
school on top. Another eco-friendly concept indeed!
3. The
Floating School, Halong Bay, Vietnam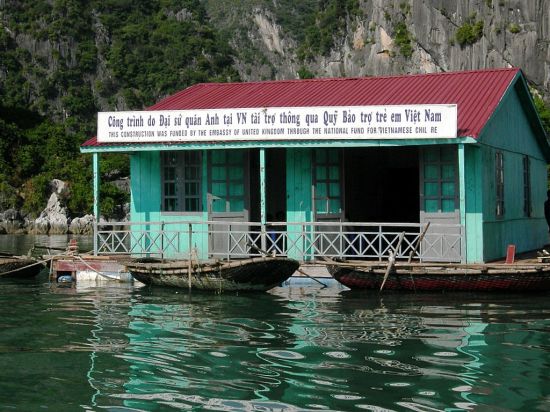 In a geographical location like Vietnam,
which has a huge stretch of coastline containing nearly 2000 islands of varying
size and population residing in floating villages, the concept of a floating
School is a complete success. The above pictured school that reads: 'This
construction was funded by the embassy of united
kingdom through the national fund for
vietnamese children', is one of the many floating schools that can be spotted
around the shores in Vietnam.
A very distinctive environment friendly concept to avoid pollution for all you
need is to plank a boat to be there.
4. The
Monolithic Dome School, Arizona,
USA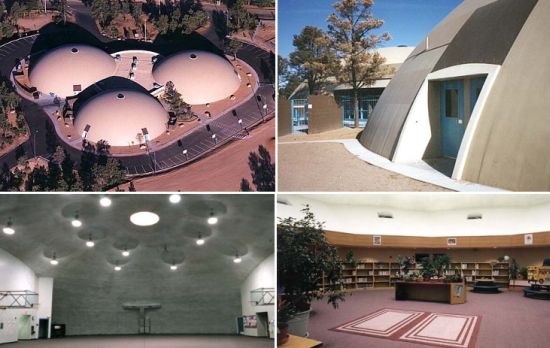 The Monolithic Dome
School appears to be one that rests
on some other planet. Its design is based on a very popular method of
constructing a robust and extremely cost effective structure. Initially a circular
concrete base is set then an airfoam dome is puffed up to the correct size and later
toughened using a variety of materials like a spray mix of concrete. Its cost
effective and dome shaped design makes it popular enough to be imitated
worldwide.
5. The
Shipping Container
School, Amsterdam,
Netherlands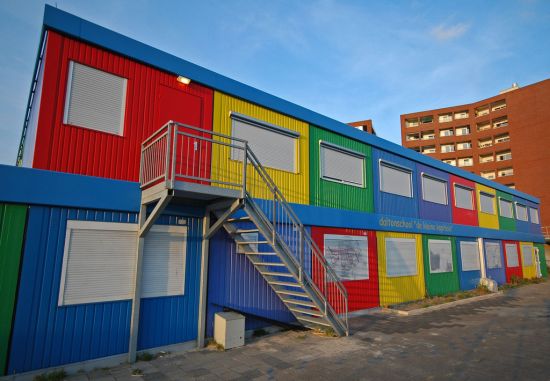 The Shipping Container
School in Amsterdam
is a temporary kindergarten for kids till a new building is completed in 2009.
This concept is generating good
responses for it is low in cost, runs sans hassles and the bright colors make it all the more playful and attractive.
Via: DeputyDog