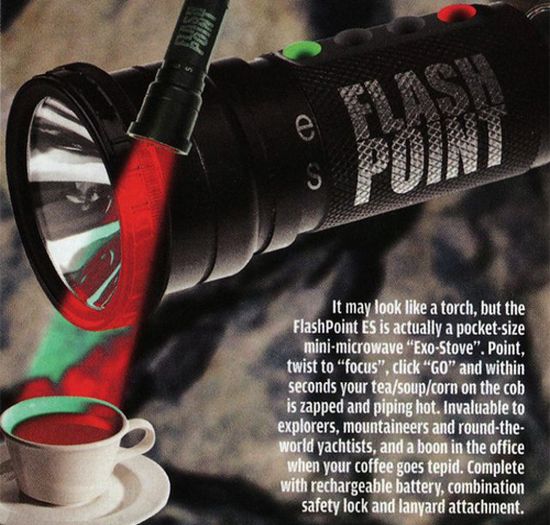 Regular trekkers have to compromise with a lot of things, like foodstuff and beverages, apart from the wild furies of nature, to satisfy their exigent buds. They have to either rely on whatever they get from natural sources or eat cold, packed food and drinks. However, hard times do not prevail too long, as modern technology and gadgets have just revolutionized life even in the most extreme of conditions. Resembling a regular torch or flashlight, FlashPoint Exo-Stov is an innovative hand-held mini-microwave, that will change the life for people constantly on the move, exploring untamed places around the globe. Featuring a rechargeable battery to provide sufficient energy for longer duration, the revolutionary microwave comes with a combination safety lock, ensuring protection from any technical discrepancy.

Design Status:
Though there isn't any info regarding price and availability, after being published in the Financial Times 'How to Spend It' magazine, there is every possibility that the product will soon be available in stores.
Usability:
Exo-Stov is so compact that it can easily slip in a side pocket of a backpack. It is a dream product for people on-the-go, like trekkers and explorers, as it allows them to heat up cup of tea or soup effortlessly and without wastage of time.
Via: Ohgizmo/ Gizmodo/ Slashgear