Do you have old cassettes locked up in the attic? Well, almost everyone will say yes to this one as cassettes were the most popular way to listen music in earlier times. They were very popular and that is why everyone has a lot of cassettes at their homes but today they are more like junk and unwanted things. Due to advancements in technology we have moved on from cassettes to CDs and iPods and most of us keep looking for ways to get rid of these old things. But, why throw them away when you can reuse them to make something beautiful and useful? Yes, that's right old cassettes and cassette reels can be used to create some very innovative and useful at the same time.
Getting creative with old cassettes
Using cassettes for listening music is definitely not happening today but using old cassettes for making creative things is surely the thing to do. There is more than one great idea to work on and all you need is some time, a little creative 'you' and of course your box of old cassettes. You can make decorative items and you can also use them to make useful things like a purse and you thought that old cassettes are good for nothing! Well not anymore as here are some awesome ideas to get you going!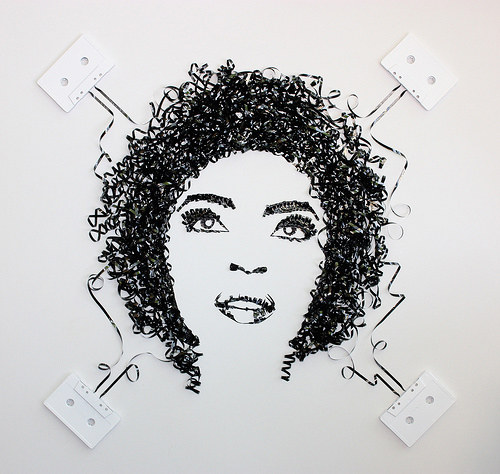 Old cassettes: here's what to do with them
Old materials are great to experiment your creative side and that is what we are about to discuss and our old item of the day is: old cassettes. If you have a bunch of old cassettes lying around then you can make them into things like:
A coin purse: a purse made from old outdated cassettes is nothing but very stylish and a very wonderful gift item. It is definitely a do it yourself item to make and here is how to do it. Take an old cassette and carefully open the case and take out the reels from there to make space for a small pouch. When you are done with putting a little handmade pouch in the case put a zipper to the top part of the cassette.
Portraits from cassette reels: the reels inside the old cassettes can be utilized to make beautiful portraits which will definitely add a lot of style to your place. You can explore your creativity and make a portrait of your favorite star, or may be your favorite musician. The choice is all up to you and you can experiment all you like and you will surely like the outcome.
Tinsel tape: you can begin collecting for Christmas decorations by transforming the cassette reels into tinsel tape. Christmas decorations with shiny tinsel tape sure look very nice and if that tape is handmade by using some of the old cassettes then it makes it even nicer. You can take the reel out of the cassette case and paint it with Christmas colors like green and red and to make it more interesting you can add some glitter to them.
Business card holder: if you want a nice and innovative card holder then old cassettes are just the thing for you. The procedure will be a lot similar to making a coin purse but without the pouch of course. The end result will be an interesting table accessory that will look decorative and will be very useful.
You can now understand that old outdated cassettes are not useless after all and there are a lot of uses that they can be used for. So indulge yourself in some creative activity and also put some new life in the old and unwanted cassettes.