Welcome the Year of the Snake with scale motifs
The Chinese Year of the Snake is all set to commence soon and if you want to mark this remarkable event, you can use the scale motif to adorn anything from your homes to your apparel and even lighting scheme. The motif of snake scales is way more handy and flexible than regular snakeskin pattern or print and presents a 3D effect which makes it a lot more perfect for architecture. Architect Laura Dewe Mathews used the scale motif created via rounded wooden shingles to cover the walls of a small house in Hackney.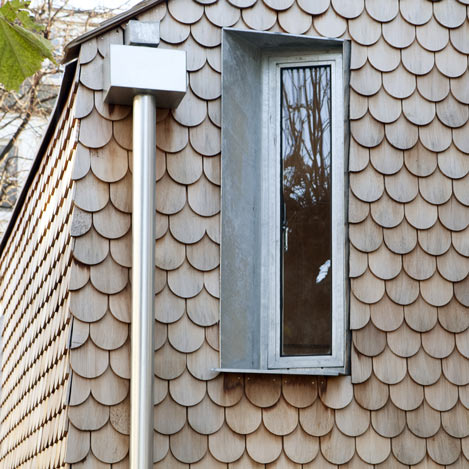 ---
Australian architects Lyons created a similar effect on a building in the university campus though they used a bunch of brightly colored scales to create the anguine effect. OFIS Arhitekti created triangular balconies in ski apartments in alpine Slovenia and finished it with a scale like effect to make it stand out in the winter landscape.
If you want the scale motif to brighten up your home on the inside as well, you can always do what MAKE Creative did with the Bondi Beach, Sydney-based clothing store called Little Joe Woman at The Beach House. The architects used plywood shingles to create a snake scale effect on the walls of the joint white fishermen's nets were used to hang spherical lights. If you simply want a small corner of your home to house the scale motif and not overpower the entire interior scheme, you can use something like Frank Gehry's Fish Lamps.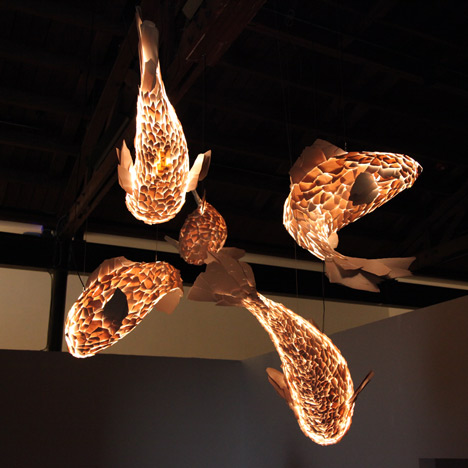 Made of jagged plastic scales, the glowing Fish Lamps don't exactly fit in with the Year of the Snake theme though it does give the scale motif a less sinister edge. In terms of apparel, snakeskin print is going to be huge this year though you can always go the alternate route and use something like Camille Cortet's Snake&Molting legwear. The Dutch designer has created the faux snakeskin effect by cutting triangular slits into the leggings' fabric.