From buses and cars to washing machines and submarines, countless objects are powered by the foot and pedal. Let's take a detailed look at some of these really cool and bizarre things which are quite exciting and fun to use.
Pedal Powered Wire Lamborghini
You can never imagine of winning a race with it. However, this Lamborghini carved out from wire caught the attention of many in Britain. Designed by Ben Wilson and Benedict Radcliffe, the Lamborghini was displayed at the Art Car Parade somewhere in 2007 in Manchester. A perfect team of pedal car designer and sculptor to come up with such a weird yet attention-grabbing car!
Foot-powered Washing Machine
How about washing clothes in an unconventional way? Brainchild of Ji A You and Alex Cabunoc, GiraDora is indeed a washing machine that can be run by foot. Consisting of a spinning mechanism which is not noticeable, this washing machine looks similar to a blue bucket. All you need to do is sit on top of it and start using the foot pedal. This washing machine brings with itself a host of benefits. It helps reduce the back pain that arises out of washing clothes with hand and is highly portable. You can carry it near the water sources and start cleaning clothes right away! Its environment friendly as well since it uses less water.
Pedal Powered School Bus
Sounds interesting, isn't it! Well, De Café Racer has come up with an out-of-the-box pedal powered school bus in the Netherlands. An exciting way for children to make their way to school!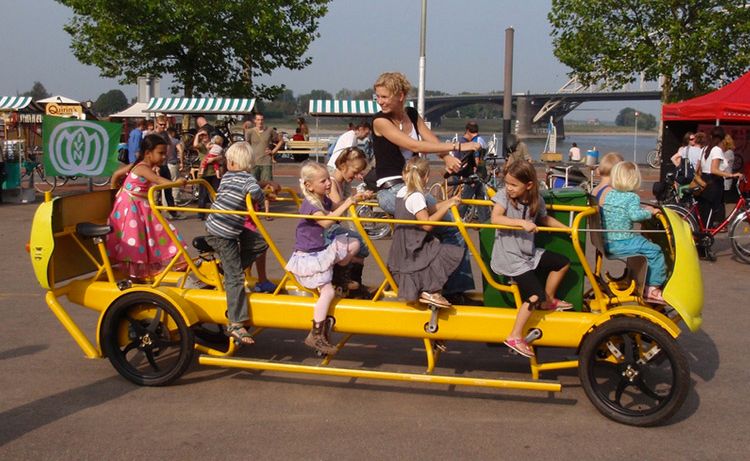 Pedal Powered Water Purifier
Looks like a bike at first glance but is in fact a water purifier! Made by IDEO, this bike comprises of three wheels and can be used for making the water clean by pedalling. Named Aquaduct, the bike has won a handful of honours at an innovation contest. Things such as these are the ultimate answers to drinking problems faced by developing countries. A great way to drinking clean and pure water! Hats off to its designers!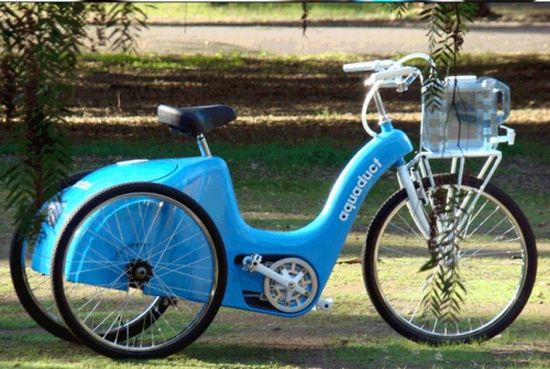 Pedal Powered Personal Pod
Seeking to find an answer to the problems faced in this global warming era, designers have come up with what is known as the Schweeb or a pedal powered personal pod. You will already find this being used in New Zealand. Not only is it fun to use this personal pod but it can also solve a number of other problems as well. The pod can be used for commuting in congested traffic. Attaining a top speed of 31 mph, the Schweeb truly is an environment friendly way to travel. It uses a monorail system for guiding users along a pre-arranged path.